5 Ways A Construction Hopper Makes A Job Site More Efficient
As a construction project manager or foreman, you know how critical job site safety and efficiency are for every project.
In today's construction world, profitable jobs are the ones completed safely, efficiently, and on time.
However, few project managers know that there is a relatively unknown construction tool available to help meet these goals.
What is this tool?  
Construction hoppers, also known as construction forklift dumpsters!
While many people recognize the value of different style hoppers being used in manufacturing plants, few have recognized the importance of also using different hoppers on the construction site.
In this article, we will look at several ways a forklift construction dumpster can save you money while making your job site safer and more efficient.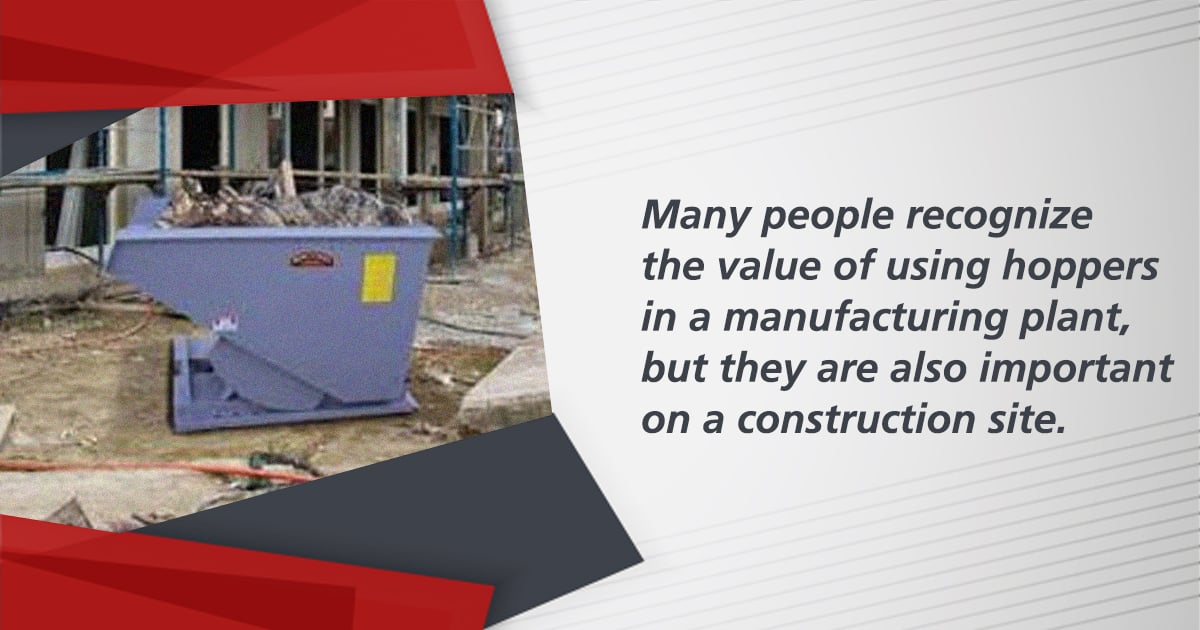 Efficient Transportation of Materials
On many job sites, it is not unusual to see large piles of raw materials and aggregate dumped on the edges of the job site.  These materials consist of gravel, sand, bags of cement, dirt, wood or metal materials, or any other product needed in the construction.
The problem is that these materials are often in large piles and need to be transported to the correct place.  This means a forklift, telehandler, skid steer, wheelbarrow, or another piece of equipment is needed to transport the product.
While this method of transportation works, using a construction hopper makes it more efficient.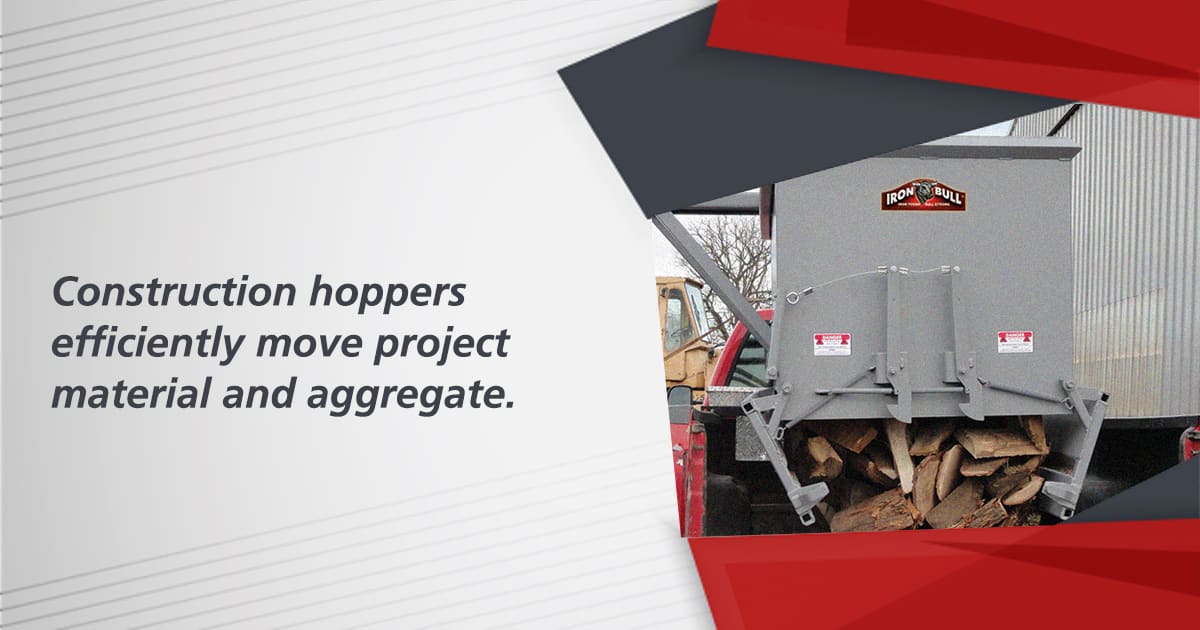 Forklift construction dumpsters come standard with forklift pockets and can be several yards in size.  This is advantageous for a variety of reasons:
It allows telehandlers and forklifts to move dirt, stone, sand, and other products that typically require a skid steer or wheelbarrow.

If you have a finished concrete floor, you can even use a pallet jack to move materials easily with small hoppers.

You can move several yards of product at once - bottom dump hoppers can carry 4+ yards of product.

You can transport aggregate materials to places that a skid steer is unable to reach.

Bottom dump hoppers have an optional controlled-dumping addon that allows for precise dumping of your product.
How does this play into a real-world example?
Let's say you are working on a large commercial building.  The outside walls and concrete floor are completed, and masons are laying the interior walls.  Instead of needing to haul their concrete sand, mortar, and blocks with wheelbarrows or carts, they can use a forklift, telehandler, or even a pallet jack to move their materials quickly with a hopper.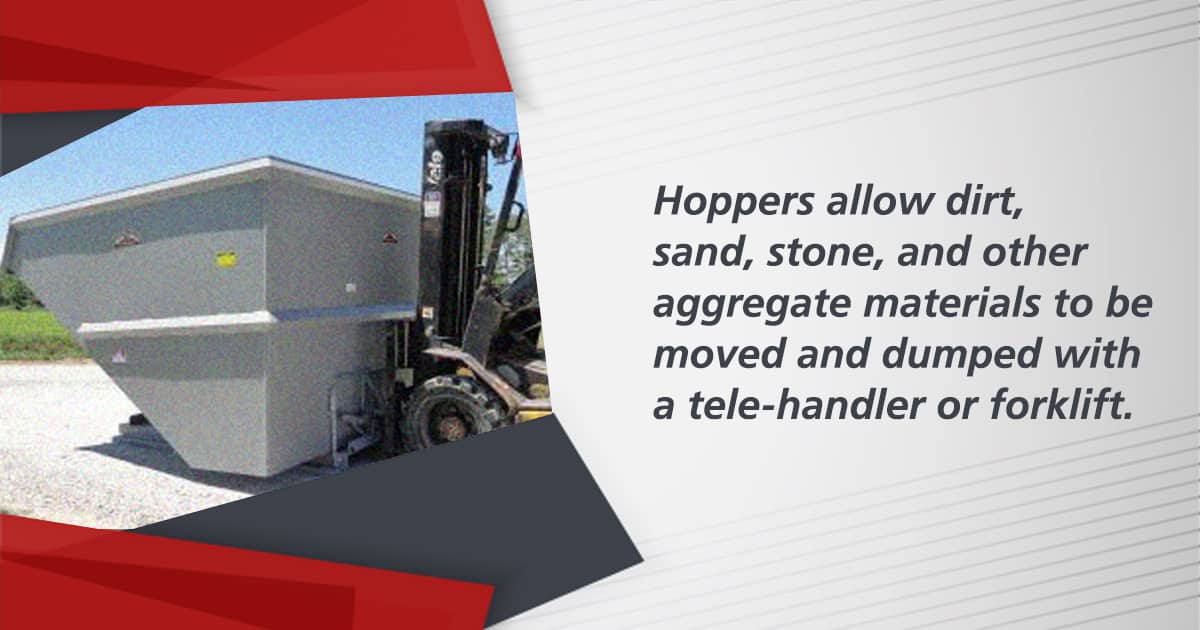 Easy Gathering & Disposal of Trash
Construction forklift dumpsters allow for quick and easy trash gathering and disposal.  Many large jobs have a large roll-off dumpster for job trash and scraps.
The problem is that a skid steer bucket might not be large enough to haul the trash, or a skid steer may not be able to access the area.  
And using a wheelbarrow or hand cart to collect scraps and trash?  Well, it works, but we all know how long and tedious this method is!
So how can your crew be more efficient in collecting and disposing of job trash?
By using construction hoppers!
Construction hoppers, particularly self-dumping hoppers, can be placed directly in the active work zone.  When workers throw their scraps into the hopper, it saves the time of gathering the scraps at the end of the day or shift.
And when the hopper needs to be dumped, you simply pick it up with a machine equipped with forks, take it to your job's larger roll-off dumpster, and dump your trash!
If you work mostly with skid steers and don't have a fork attachment, Iron Bull Manufacturing offers a skid steer quick attach on our self-dumping hoppers 3.75' to 10' wide.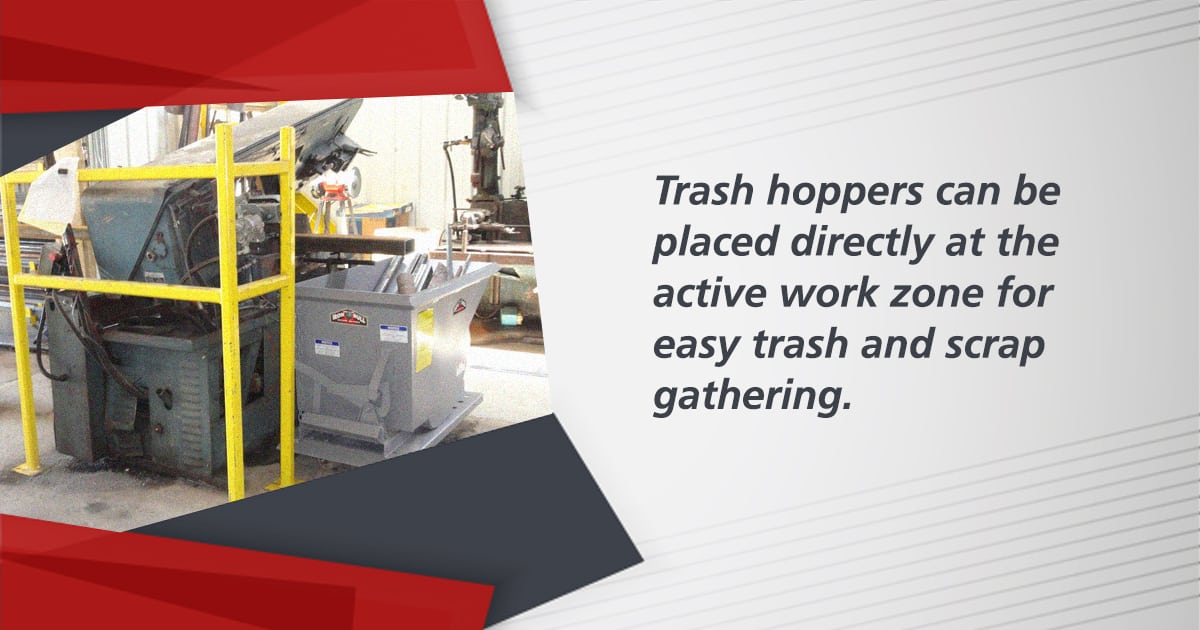 Avoid Renting a Roll-off Dumpster
There is no doubt about it - using roll-off dumpsters on large job sites is a great way to collect and dispose of trash.
But what about smaller job sites?
Small jobs, especially when working with a home or small office remodel, don't always have a lot of trash, and the job manager has a decision to make.
Does he rent a small roll-off dumpster and pay the rental and delivery cost, or does he tell his crew to return several garbage bags of trash every day?
Thankfully, there is another option.
Using a special kind of construction hopper called a pickup & trailer hopper, your pickup or flatbed trailer becomes a roll-off dumpster.
This particular kind of forklift construction dumpster is designed to fit into the back of a standard pickup truck.  It can also be strapped onto a flatbed trailer.
You can move this hopper with any fork attachment on the job site, so if your team is moving around a building, they can move the hopper with them for faster cleanup and a safer job site.
It allows your crew to dispose of scraps and trash during the day, and it can be transported back to your primary dumpster or disposal center when it is full.  These hoppers can be dumped out of the back or bottom of the hopper.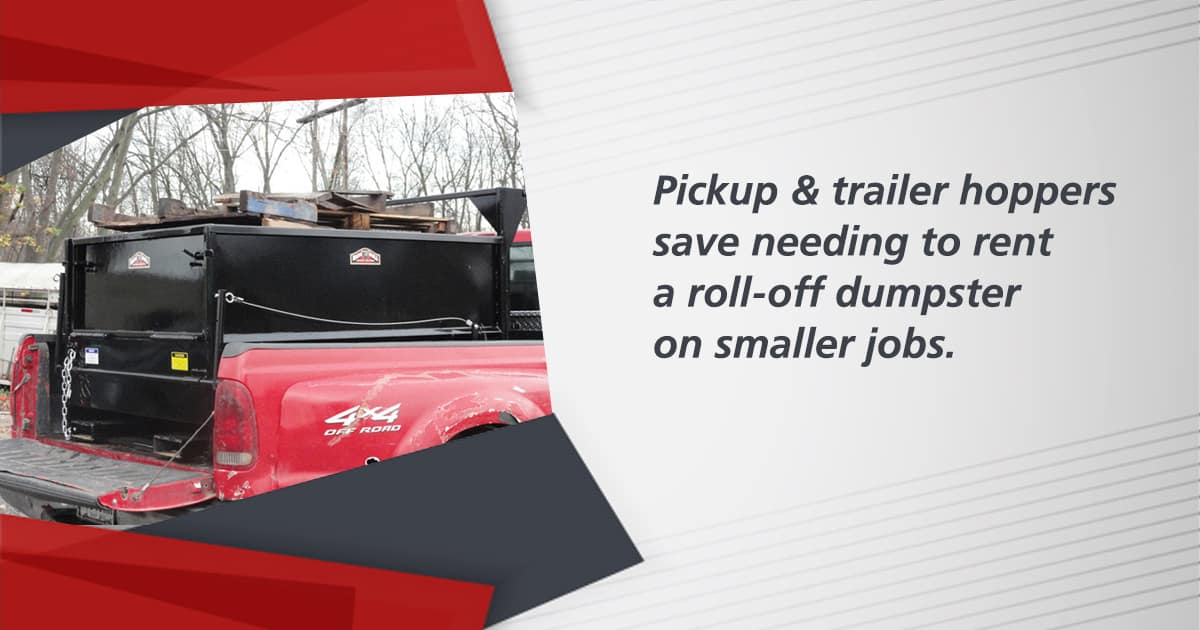 Remember, every job manager and foreman wants a profitable job site, and you need safety and efficiency to achieve this goal.
Construction hoppers are ideal for having a cleaner and safer job site.  
Instead of having a lot of trash and scraps lying around during the day, hoppers can be placed in the active area and quickly dumped when full.
Instead of needing to move aggregate with a wheelbarrow, you can use a hopper to efficiently move and dump yards of aggregate at a time - with a forklift or telehandler!
And instead of causing your crew and clients frustration with a messy job site, you can use scrap hoppers to keep your job site clean, safe, and organized.
Which Construction Hopper Is Right For You?
If you feel like you are missing the right tool to take your job site and crew to the next level of efficiency and organization, take a look at purchasing a construction forklift dumpster.
At Iron Bull Manufacturing, we offer a variety of construction hopper styles.  Each style comes in a variety of sizes, capacities, and other add-on features that can be customized to fit your exact needs.
Feel free to take a look at our whole line of Construction Dumpsters, or view our Specialty Hoppers page to get an idea of what we could custom build for you.
Don't settle for inefficient trash or material movement on your job site - get your quote from Iron Bull Manufacturing today!