Iron Bull Manufacturing first began serving its customers in 1994 when Crist King started a farm machinery shop in Lancaster, PA.  In 2002, the King family moved to their present location in Marshall, IN.
Because the machine business was "feast or famine" depending on the time of year and corresponding farm work, the company decided to branch into creating self-dumping hoppers.  
They had some experience repairing hoppers and dumpsters, but they wanted to create their own line of quality hoppers that they could manufacture and sell.  To help them start this hopper line, Joe Glick joined the company. Joe had experience with metal manufacturing after starting and selling his own manufacturing business.
Creating a new product line of self-dumping hoppers was not easy.  It required research, making prints, building custom jigs and equipment, and significant time in development.
The name "Iron Bull" was chosen to reflect what the company wanted for every customer experience:  Quality products that are tough and strong.      
After doing some custom work on tractor canopies, Iron Bull began its line of tractor canopies and frames in 2015.  Like the hoppers, this initially required a lot of research and new equipment.
With the emphasis being on safety, Iron Bull worked hard to have their tractor equipment ROPS certified.  Today Iron Bull is proud to offer ROPS certified tractor frames and canopies that look like the original tractor parts.
Today, Iron Bull continues to live up to its name by creating well-built products that are safe, strong, and efficient.  
They continue to work hard to listen to their customers, to continue their research and learning, and to continue getting better at serving their customers by creating quality self-dumping hoppers and tractor canopies and ROPS equipment.
Contact us today to have your expectations exceeded by the Iron Bull Manufacturing experience!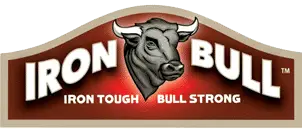 Thank you for visiting us! If you have any questions, don't hesitate to ask.
"I've been worrying about my grandson mowing with the tractor. We decided a couple thousand dollars is money well spent to keep him safe"
- A caring Grandpa