"I've been worrying about my grandson mowing with the tractor. We decided a couple thousand dollars is money well spent to keep him safe"
- A caring Grandpa
That Tractor Rollovers are the leading cause of death on the farm?

That constant exposure to the sun causes skin cancer?

That ROPS are 99% effective in preventing serious injury or death in the event of a rollover when utilized properly?
Get Peace of mind and protect your loved ones with ROPS and Canopies for your John Deere Tractor.
Iron Bull manufactures aftermarket ROPS and canopies that will fit on older John Deere tractors. Painted for Longer Rust Protection. Optional Heat Protection Headliner Available- For Added Heat Protection And Reduced Vibration. Optional Exhaust Pipe Extensions Available- Extend Your Exhaust Above The Canopy To Help Reduce Fumes.
John Deere Models (These models are Now Certified ROPS): 2510, 2520, 3010, 3020, 4000, 4010, 4020, 4320
John Deere Models : 4030, 4040, 4230, 4240, 4430, 5010, 5020, 6030
John Deere Utility Models:
4 cylinder utility models:
1020, 1250, 1450, 1520, 1530, 1650, 2020, 2030, 2040, 2150, 2155, 2240, 2350, 2355, 2440, 2550, 2555, 2630, 2640, 2750, 2755
3 cylinder utility models:
820, 830
The following European utility models:
920, 930, 940, 1030, 1040, 1120, 1130 
1140, 1550, 1630,1640, 1750, 1830, 1850, 2040, 2120, 2130, 2140
Get Your John Deere ROPS or Canopy
in 3 Simple Steps
Confirm

We make sure we have the correct model # before we ship the product.

Ship

We package your product correctly to ensure it arrives safely and without defect.

Mount

Every product comes with clear mounting instructions so that you don't waste time or energy.
Enjoy the safety, comfort, and peace that only a ROPS certified rollbar and canopy provide!
I could not ask for it to be any better. It went on our John Deere utility model 2640 real good. I'm proud of it. It looks wonderful!
- Ronnie Lancaster, Milan, GA
The ROPS and canopy I bought from you Iron Bull is a solid piece of equipment. It makes my John Deere tractor look good.
- Gene Cunningham, Washington, WV
What You Can Expect
From Iron Bull
Satisfacton Guaranteed
If you are not fully satisfied, return your product for a full refund.
Seat Belt Assembly
Every ROPS & Canopy comes with a seatbelt that is easily installed for additional safety.
All Mounting Brackets and Hardware
No trips to the hardware store; every part you need is included.
Hassle-free payment
Pay online with your credit card or call us to schedule your payment.
Tractors made
safer & cooler
Risk injury or your life when driving your tractor.

Need to worry about your children or grandchildren using your tractor.

Have to deal with the constant heat of the sun.

Risk getting skin cancer.
Get your new John Deere ROPS and Canopy from Iron Bull, and these risks will become a thing of the past!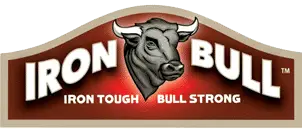 Thank you for visiting us! If you have any questions, don't hesitate to ask.