"I've been worrying about my grandson mowing with the tractor. We decided a couple thousand dollars is money well spent to keep him safe"
- A caring Grandpa
That too much direct exposure to the sun causes skin cancer?

Heat strokes often occur from long exposure to sunlight and high temperatures?
Get Peace of mind and protect your loved ones with Support Frame and Canopy for your Ford Tractor.
Shade Canopies & Support Frames for Ford Tractors. They are heavy duty and have an original factory look. Industrial Urethane Paint For Longer Rust Protection. Optional Heat Protection Headliner Available - To Increase Heat Protection And Reduce Vibration. 
When working with a Ford tractor, it is important to know what version you have.
In the Utility version, also known as All Purpose, the floor of the cab is not flat.  Instead, the operator's feet and legs straddle part of the transmission.
In the Row Crop version, also known as the Flat Deck, the tractor's transmission is completely below the cab, allowing the floor of the cab to be flat.
Ford Models in Utility (All Purpose) version only: 2000, 2810, 2910, 3000, 3230, 3430, 3910, 3930, 4000, 4000SU, 4100, 4110, 4600, 4600SU, 4610, 4610SU, 4630, 5030
N-Series:  9N, 8N, and 2N
Ford Models in Row Crop (Flat Deck) version only:  4200, 5200, 6700, 6710, 7200, 7700, 7710, 8000, 8400, 8600, 9000, 9600
Ford Models in Utility or Row Crop:  2100, 2110, 2310, 2600, 2610, 3100, 3400, 3500, 3600, 3610, 5000, 5100, 5200, 5600, 5610, 5900, 6600, 6610, 7000, 7200, 7600, 7610
These units are available for square axles only.
Get Your Ford Support Frame and Canopy
in 3 Simple Steps
Confirm

We double-check the correct model # before we ship the product.

Ship

We make sure your part arrives safely and without defect by packaging it correctly.

Mount

All our products come with clear mounting instructions to save you time and energy.
Enjoy the safety, comfort, and peace that only a Ford Tractor Support Frame and Canopy provide!
I just want to say that the precision and workmanship on your support frame and canopy is fantastic! Everything fit together so well it was a pleasure to assemble.
- Greg Steele, Princeton, IL
My Wife said, "If we are going to have our grandchildren drive this tractor, we are going to make it safe." So we did.
- Greg Unruh, Leland, MS
What You Can Expect
From Iron Bull
Satisfacton Guaranteed
If you are not fully satisfied, return your product, and we will issue a full refund.
Seat Belt Assembly
We care about safety, so every Support Frame & Canopy comes with a seatbelt.
All Mounting Brackets and Hardware
We include every part you need so that you don't waste time or money.
Hassle-free payment
Pay online with your credit card or call us to schedule your payment.
Tractors made
safer & cooler
Risk injury or your life while operating your tractor.

Have to worry when your children or grandchildren are running your tractor.

Worry about burns or constant heat from the sun.

Need to worry about getting skin cancer.
Get your new Ford Support Frame and Tractor Canopy from Iron Bull, and these risks become a thing of the past!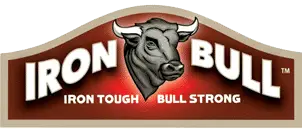 Thank you for visiting us! If you have any questions, don't hesitate to ask.