Stay Safe on the Farm: Tractor Safety Precautions You Should Know
Agriculture is a vital yet dangerous industry. Around one-third of farm workers receive a farm-related injury in their lifetime, some of which result in permanent disability or even death.
In fact, if you live in a farming community, you probably know of someone who was injured or killed in a farming accident. 
The most common farming accidents are tractor-related. Tractors are the lifeblood of a farm, but they're also powerful machines that are dangerous if you treat them carelessly.
The good news is that most tractor accidents are preventable with a handful of common-sense precautions and safeguards!
Here at Iron Bull Manufacturing, we're committed to keeping farmers safe with our roll-over protection systems (ROPS) and canopies. Today, we wanted to share with you a few of our best tips for safely using a tractor!
Why Tractor Safety Matters
Safety precautions can be a touchy topic in small rural industries such as farming. Excessive safety precautions might feel frustrating, unnecessary, and sometimes silly when you just want to get a job done quickly and efficiently.
But remember: even a "minor" accident can be catastrophic for your business. For instance:
If you get injured during harvest, there may be no one available to take your place on the farm

Accidents can damage expensive buildings and equipment

A farming accident can trigger a complicated

OSHA

investigation
And most importantly, if your negligence caused a loved one to lose their life or sustain a lifelong injury, you'd have a hard time forgiving yourself. 
Four Basic Tractor Precautions
You can prevent most farm accidents with a few simple safety practices. 
Let's review the four basic precautions you should take with all heavy farm equipment, including your tractor.
1 - Be alert and cautious
If you're driving a tractor, remember that your machine can do a lot of damage. Be cautious and aware of your surroundings at all times. 
This includes staying off your phone as much as possible and regularly checking your gauges and implement.
If you get distracted while driving a tractor, you may injure yourself or damage farm equipment, produce, or buildings. For example, a few summers ago, a young man in my community was watching a movie on his phone and drove his tractor into a large stack of straw bales, causing a financial loss to the farm. 
It's surprising how many accidents can be avoided by simply staying off your phone and driving slowly when needed.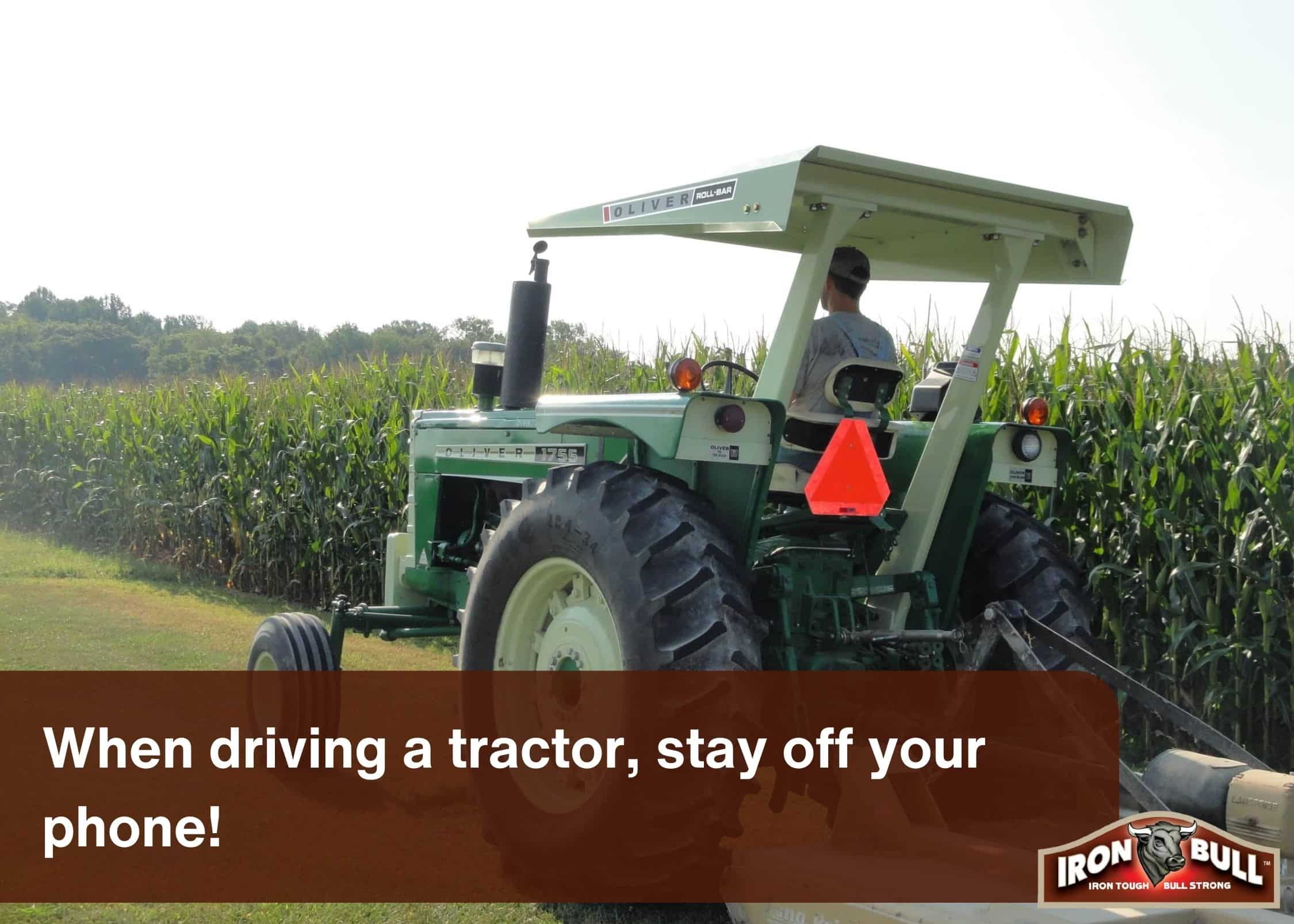 2 - Be familiar with your equipment
Another thing that can cause accidents is being unfamiliar with the equipment. You might know what to do if you're in the middle of a field and everything is going smoothly. But if you're on unfamiliar terrain or if something goes wrong, you may get into an accident simply by not knowing how to handle your equipment.
As a farmer, you should learn as much about your tractor as possible by reading the manual, talking to a mechanic, and tinkering around on your machine.
If you're a farm employee, don't hesitate to ask your employer lots of questions. Finding a manual and perusing it in your downtime is also a good idea.
3 - Do routine maintenance
Your tractor should always be in good working order. If things wear out or are in disrepair, it may be tempting to find a workaround to save money and time. But that proves dangerous if you're in any unusual situation or someone unfamiliar with the workaround uses the machine. 
Remember: paying to keep your tractor in complete repair is always cheaper than paying for the damage caused by a horrific accident. 
4 - Thoroughly train your employees
I've spent eight years doing seasonal farm work, and I've noticed that farmers are often so familiar with their equipment that they don't realize how little their employees know. 
This lack of proper training has led to some dangerous situations.
For instance, one farmer taught me to stop the tractor by pushing in the clutch. This worked fine in a large field with my heavy implement dragging behind me. But when I raised my implement to cross the road into the next field, I nearly hit a car when I tried to stop at the edge of the field and rolled into the road instead.
You may feel silly training your employees to do things that feel like common sense, but it's essential that they know the basics. I recommend making a checklist of the primary tractor components and ensuring your employees understand each one. It may also be a good idea to send them through a basic tractor safety course. 
If you're an employee, ask your boss a million questions, even if they seem silly, and ask for a copy of the manual to read.
How to Prevent Entanglement Injuries
Heavy machinery has many moving parts that can cut, pinch, crush, or otherwise entangle you if you're not careful. 
The most common source of entanglement injuries on a tractor is the power take-off (PTO) shaft that connects the tractor to the implement and acts as a power source. The rapidly-rotating shaft can injure you if it catches on loose clothing or hair.
Here are some ways to prevent entanglement injuries:
Don't work on any part of the tractor until you've shut off the engine, removed the key, and engaged the parking brake.

Be alert and aware around any moving parts.

Don't wear baggy clothing, loose-flowing hair, or anything that dangles, especially if you're working anywhere near the PTO shaft.

Make sure all shields and guards provided by the manufacturer are in place. Consider adding protective guards to older equipment.

Perform regular maintenance so all parts are working correctly.

Consider adding additional safety features, like an interlock system that shuts off the tractor if the operator leaves the seat while the PTO is engaged.
Remember: most injuries can be avoided by being familiar with the tractor, keeping everything in working order, and staying alert, focused, and cautious!
How to Prevent Being Run Over by Equipment
As you can imagine, if a tractor runs over a human, it causes severe injury or death. Thankfully, you can avoid this type of injury with a few common-sense precautions.
First, if you're not riding the tractor, stay away from the tractor! Teach children to stay far away from moving equipment and model this behavior for them. 
Second, if your tractor has no enclosed cab, the driver's seat is the only safe place to sit. If someone perches on a different part of the tractor, they may be thrown off by an unexpected jolt and injured or killed.
Remember: Only give tractor rides if your tractor has an enclosed cab!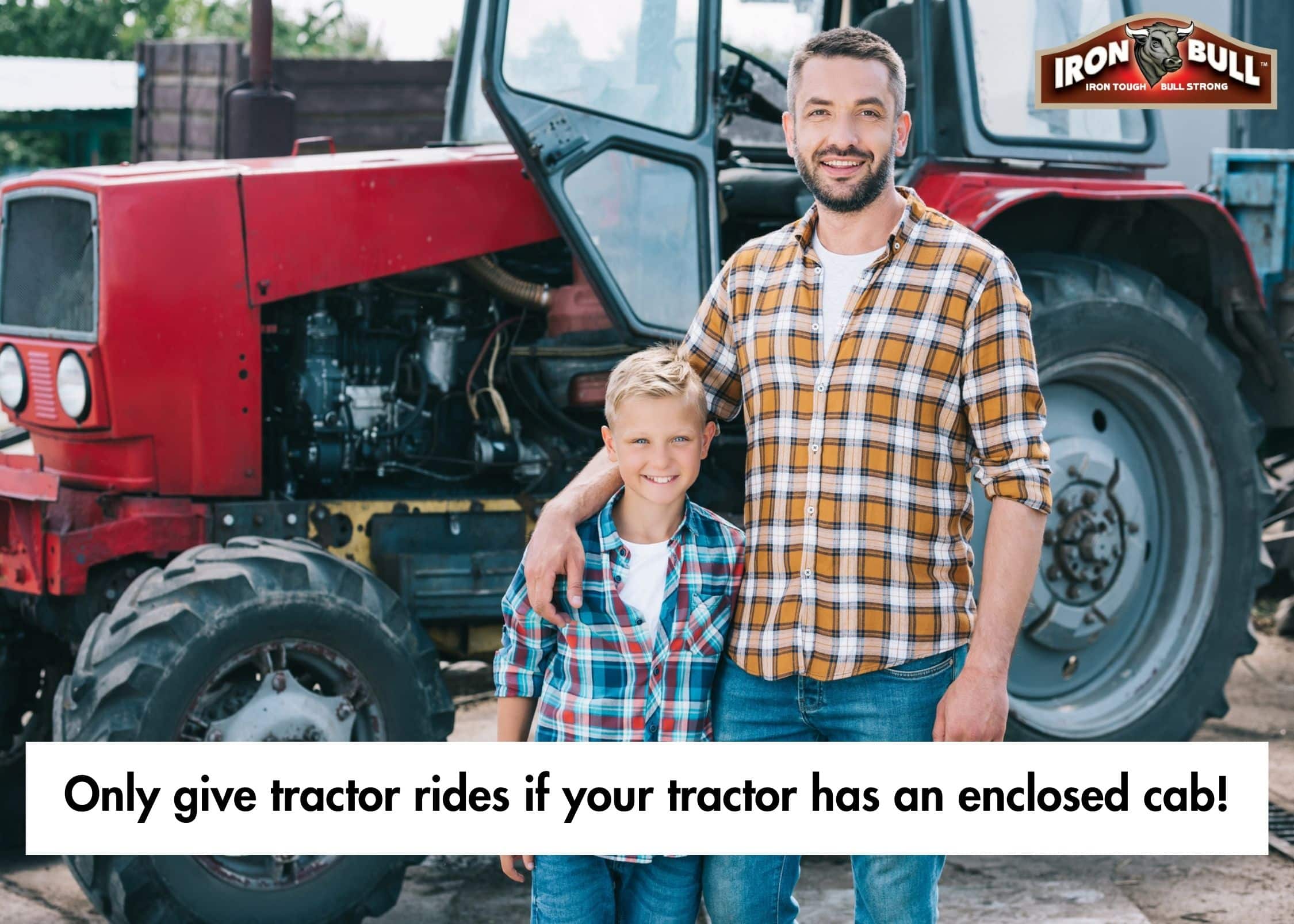 How to Prevent Rollover Injuries
Although you can injure yourself with a tractor in multiple ways, rollover accidents cause the most tractor injuries. 
Rollover injuries are caused by several factors that often happen in conjunction with each other:
Uneven terrain

Steep hills

Excessive speeds

Improper counterweighting

Improper use of attachments
All these factors can cause a tractor to become unbalanced and tip over.
To prevent rollover injuries, it's crucial to read your operator's manual and thoroughly understand how to balance your tractor and distribute the weight properly. The more uneven your terrain is, the more important this becomes. Follow the manufacturer's directions for counterweighting.
Also⁠—and I can't stress this enough⁠—make sure your employees are thoroughly trained and understand how tractor balance works! 
Make a habit of practicing caution and safe speeds, and let your employees know that you expect caution from them.
Finally, if your tractor doesn't have a cab, invest in a rollover protection system (ROPS). A ROPS creates a safety zone with a protective canopy and a seatbelt. Then, even if the worst happens, the tractor driver stays in a safety zone where they won't be crushed by any part of the tractor.
In fact, when appropriately utilized, ROPS are 99% effective in preventing serious injury or death in rollover accidents. 
For more information on how ROPS can help you stay safe, read our related blog on Tractor ROPS and Canopies: Everything you need to know.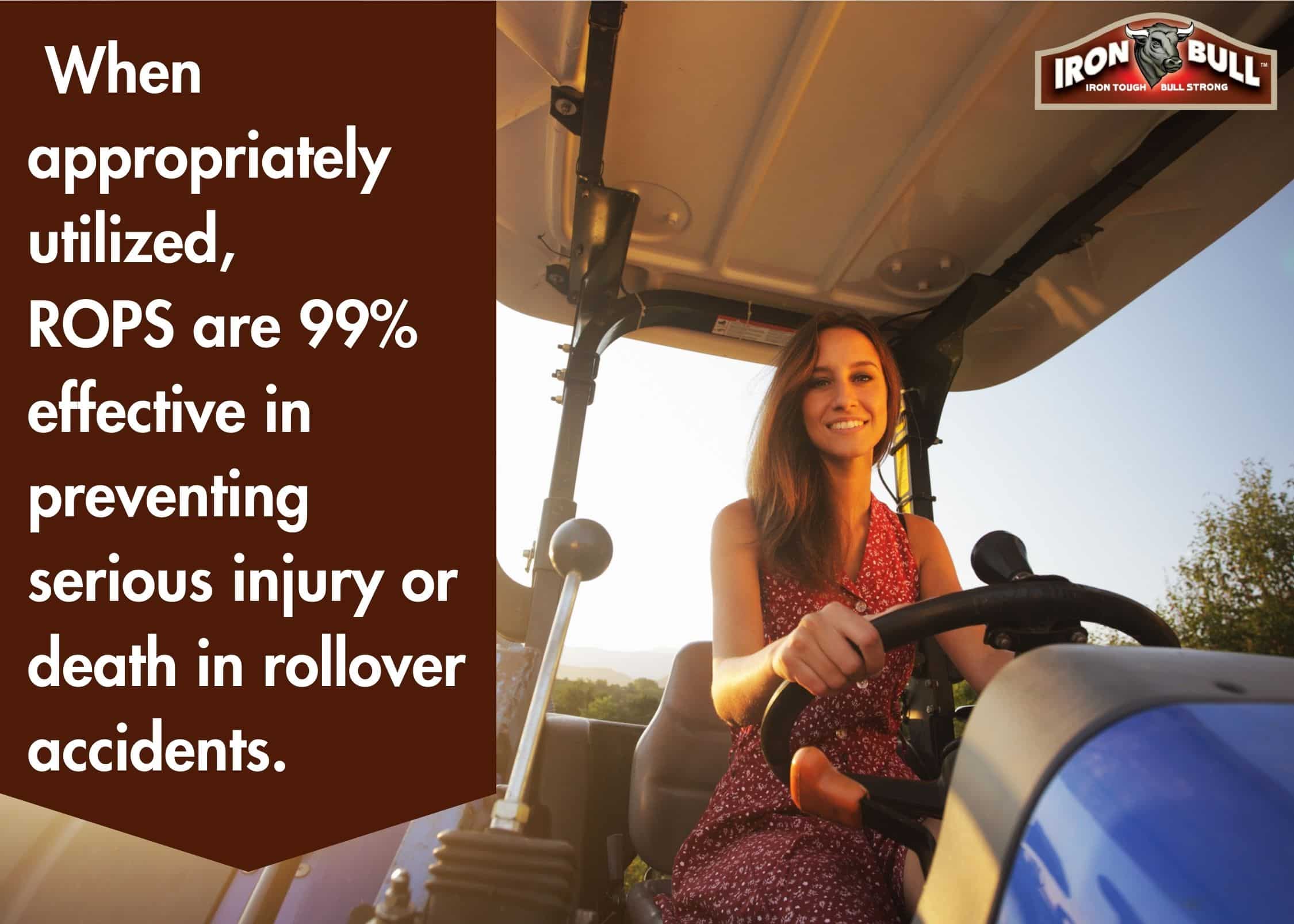 Here at Iron Bull, we create roll-over protection systems that:
Are tough and durable

Look great

Are easy to install

Match your tractor's brand color

Provide shade from the sun
Simply order your preferred material, color, and size, and we'll mail you all the parts you need to easily install your new ROPS. 
Then, enjoy the safety, comfort, and peace that only a ROPS-certified rollbar and canopy provide!
Besides tractor canopies and ROPS, we also make:
If you have any questions about our products, don't hesitate to contact us!
We look forward to hearing from you.