3 Steps To Properly Size Your Tractor Canopy
On a farm, safety should always be top priority. Farm work poses a lot of opportunities for accidents, and you should always be on the lookout for ways to prevent trouble before it occurs. 
In fact, farming is consistently ranked among the top 10 most dangerous jobs in the US! 
At Iron Bull, we want to help you get ahead of accidents and prevent them before they ever happen. One way we do this is by offering tractor canopies that help protect you when you are working on your tractor. 
This article will help you understand why a tractor canopy is essential, and then we will show you how to size and purchase a canopy for your tractor. 
Ready to get started? 
Let's go!
Why Do You Need A Tractor Canopy?
First off, what exactly is a tractor canopy, and why is it helpful to have one? Is it worth the money and the trouble to install? 
If you ask us, we'd say that from our experience there are a lot of potential benefits that come with a tractor canopy. In the next section, we'll tell you about them. 
Here are 7 ways a tractor canopy can benefit you. 
Protects you in a rollover accident 
As we said, safety should always be your first priority! 
Imagine you are riding a tractor without a canopy or Roll Over Protection System (ROPS). What is between the ground and your head if the tractor tips and rolls over? 
That's right. Nothing. 
The results of a rollover accident without an ROPS could be disastrous. But if your tractor has a canopy or ROPS, it catches the ground before your head hits. Of course, a canopy does not guarantee complete safety for you in a rollover, but it certainly helps! It may be the difference between life and death or severe injury.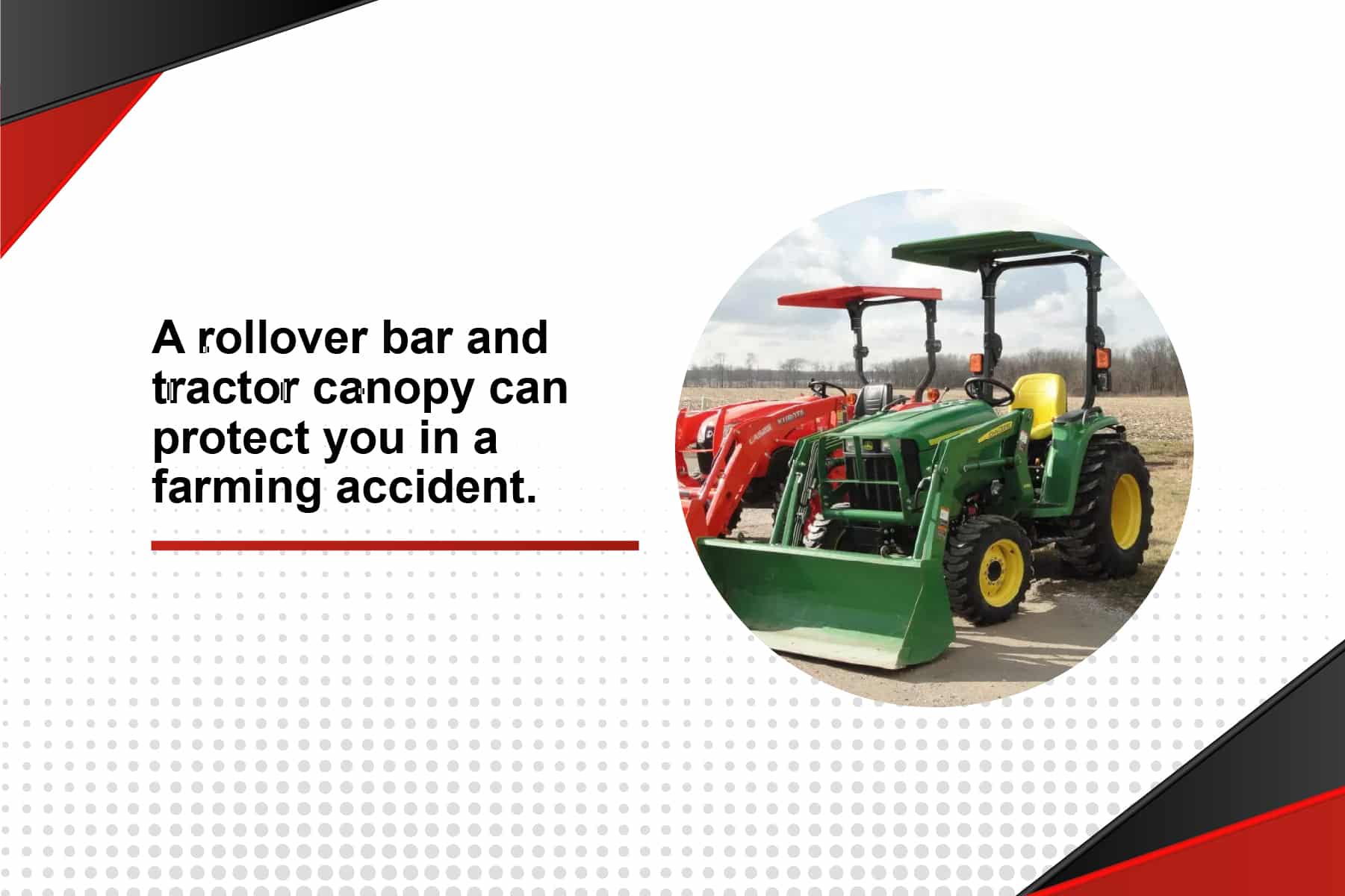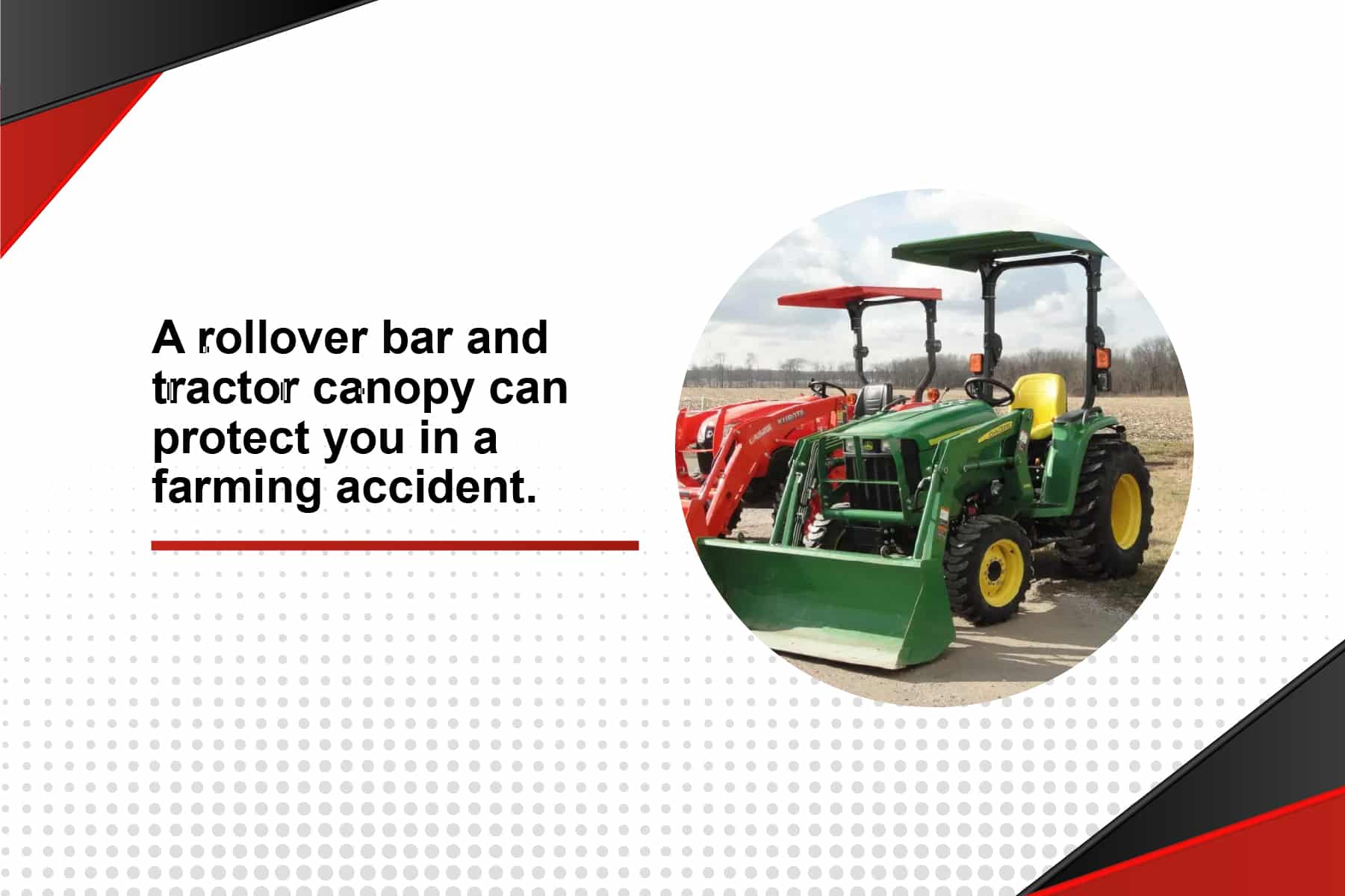 While we know it's not fun to think about, we can't ignore the unfortunate truth - farming accidents happen. There are lots of heartbreaking stories out there. There may even be stories about those you know. 
The point is not to cause you to remember painful memories, or to scare you about the possibility of a farm accident. Rather, we want to remind everyone to think clearly about the consequences of not protecting yourself when you are on a tractor. 
Remember, prevention is always better than cure. 
Sunshine is good for you, but too much can be damaging, especially if you are exposed to the sun regularly over many years. It causes sunburn, eye strain, and general discomfort. And farming is an occupation that requires you to be out in the sun for long periods of time. 
We know we should wear sunscreen or a hat to protect our skin, but some people don't like sunscreen. Maybe you don't like the oiliness or how it drips into your eyes and stings if you start to sweat. 
Hats are sometimes annoying too. They give you hat head, and on hot days they make your head itchy and sweaty. 
These are small annoyances, but they are easily preventable! Why suffer from a lot of small troubles you could prevent? 
A tractor canopy provides complete protection from UV rays without sunscreen or a hat! You can sit in the shade in comfort all day without getting sunburned. 
Mowing the lawn is another great way to get sunburned. Here is our blog on how a lawn mower canopy helps you kick the negative effects of prolonged sun exposure.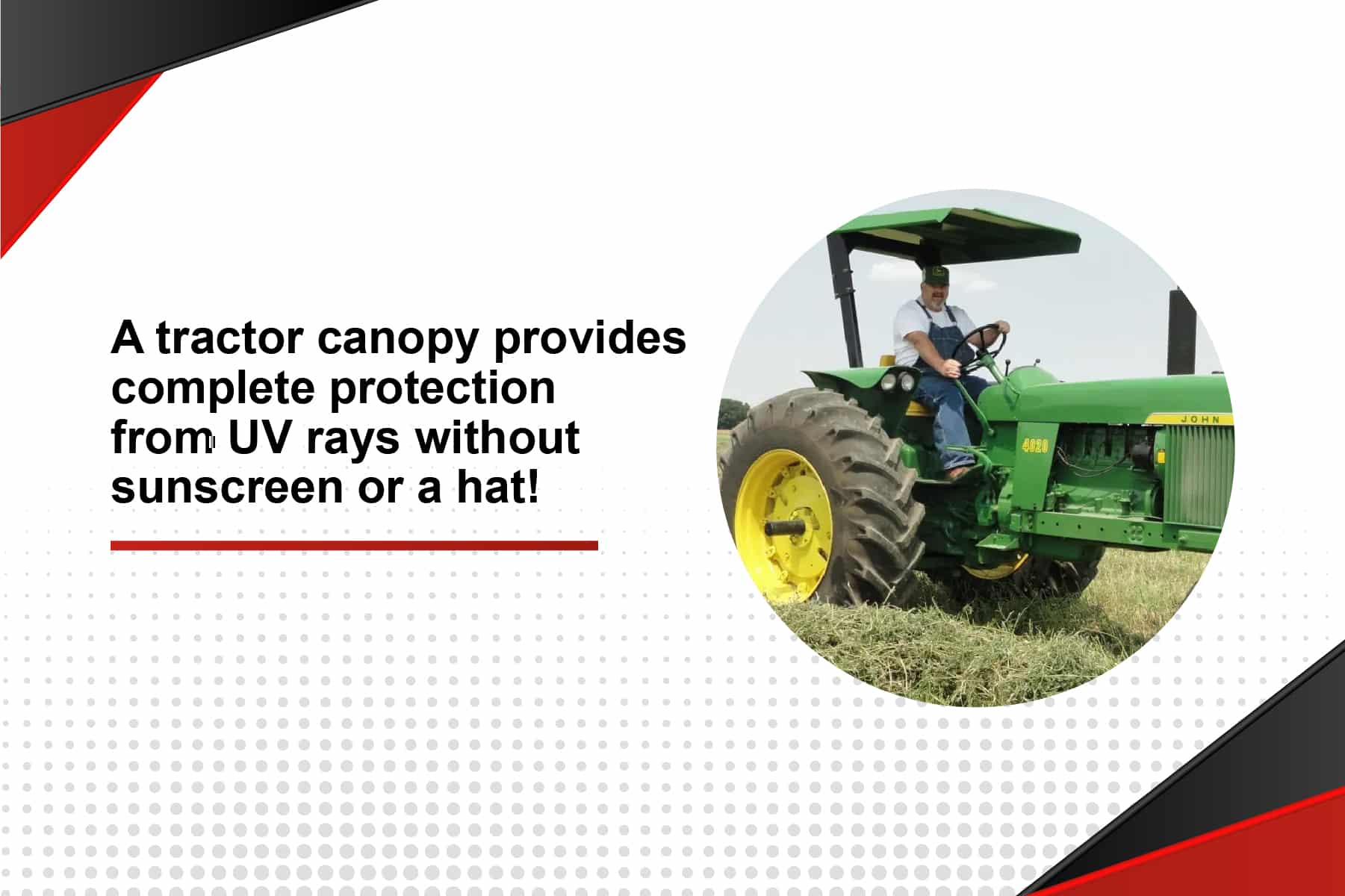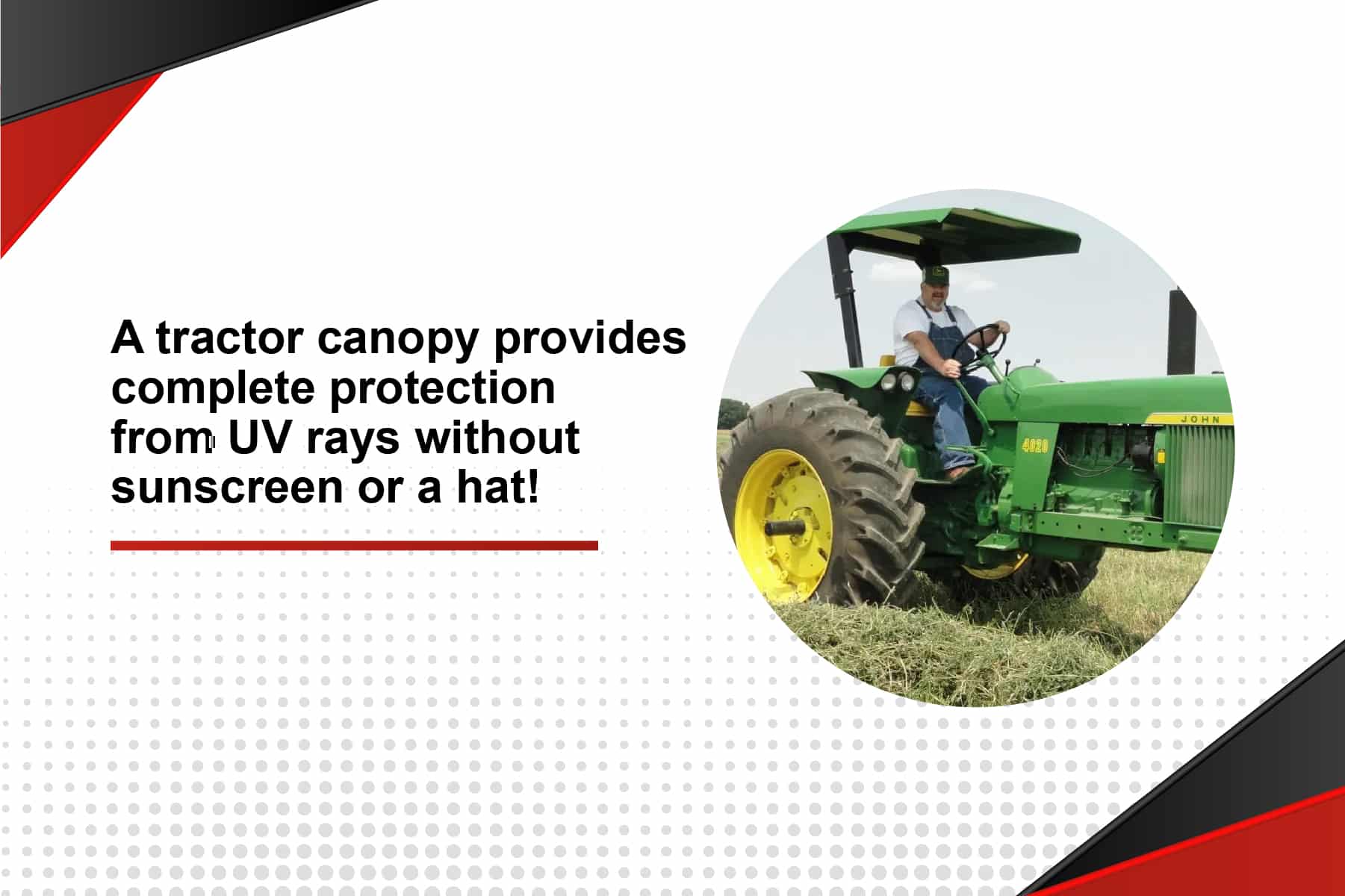 Prevents eye strain 
Riding on a tractor all day in the glaring sun negatively affects your eyes! If you farm, you have experienced this. All day you squint to keep the harsh light from hurting your eyes, and by the end of the day, your eyes feel fatigued, sandy, and strained. Chances are you have to go out and do it again the next day, too. 
Sun exposure can cause dry eyes, internal swelling in your eyes, and even migraines. But thankfully, you can prevent all this by adding a canopy to your mower. 
With a canopy, you can sit comfortably in the shade all day and not worry about squinting and tiring your eyes. 
According to the Mayo Clinic, sun exposure is the leading cause of skin cancer. 
It's not like one afternoon in the sun will cause cancer, but if you are consistently out in the direct sun for weeks on end (say, working on your tractor or in the fields), you may want to be aware of the possibility of skin cancer. And you may want to take some measures to protect yourself. 
If you are not a hat and sunscreen type of person, maybe a lawn mower canopy is your solution! With a canopy, you gain complete protection from the sun, and you can work all day in comfort.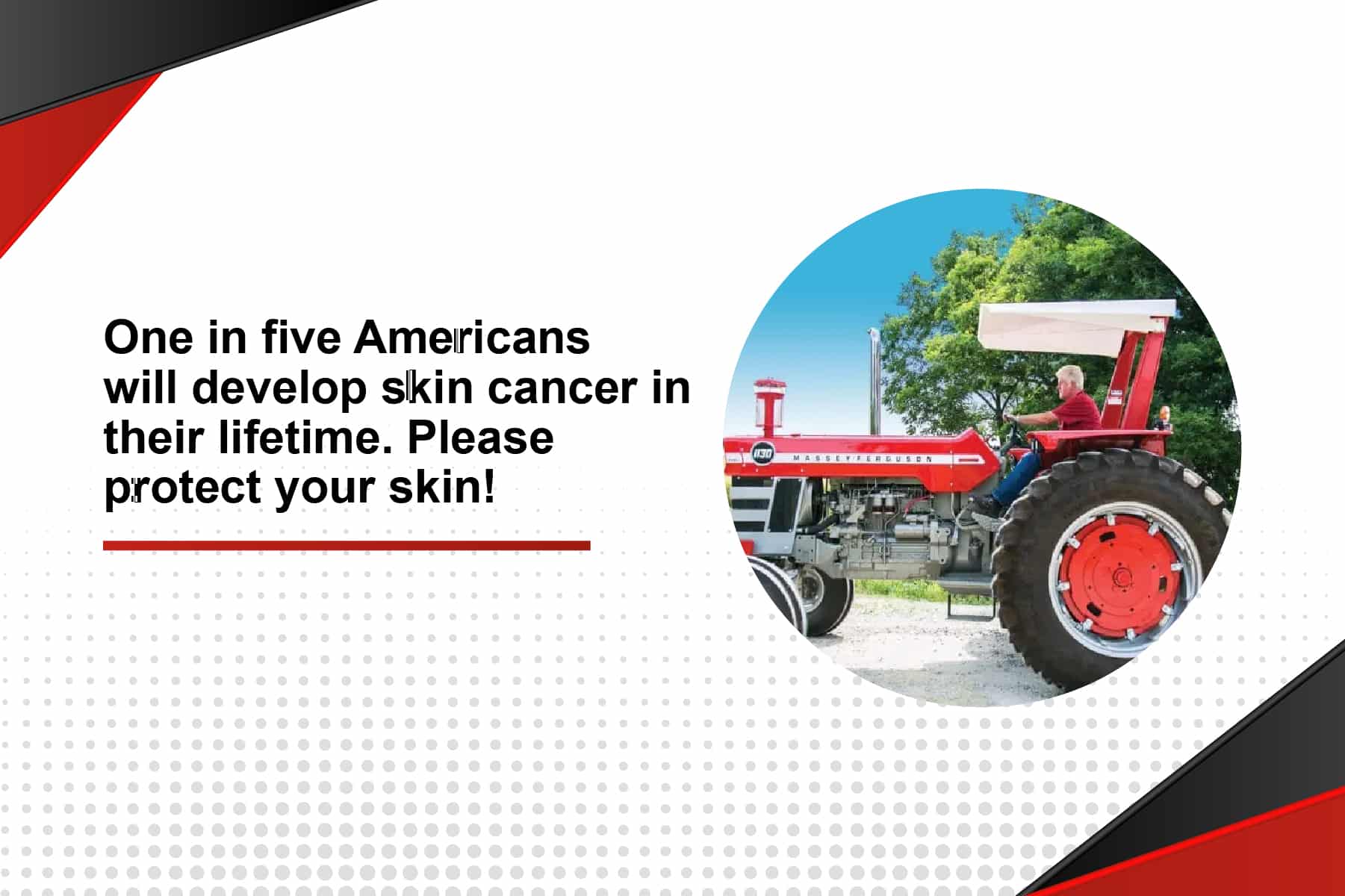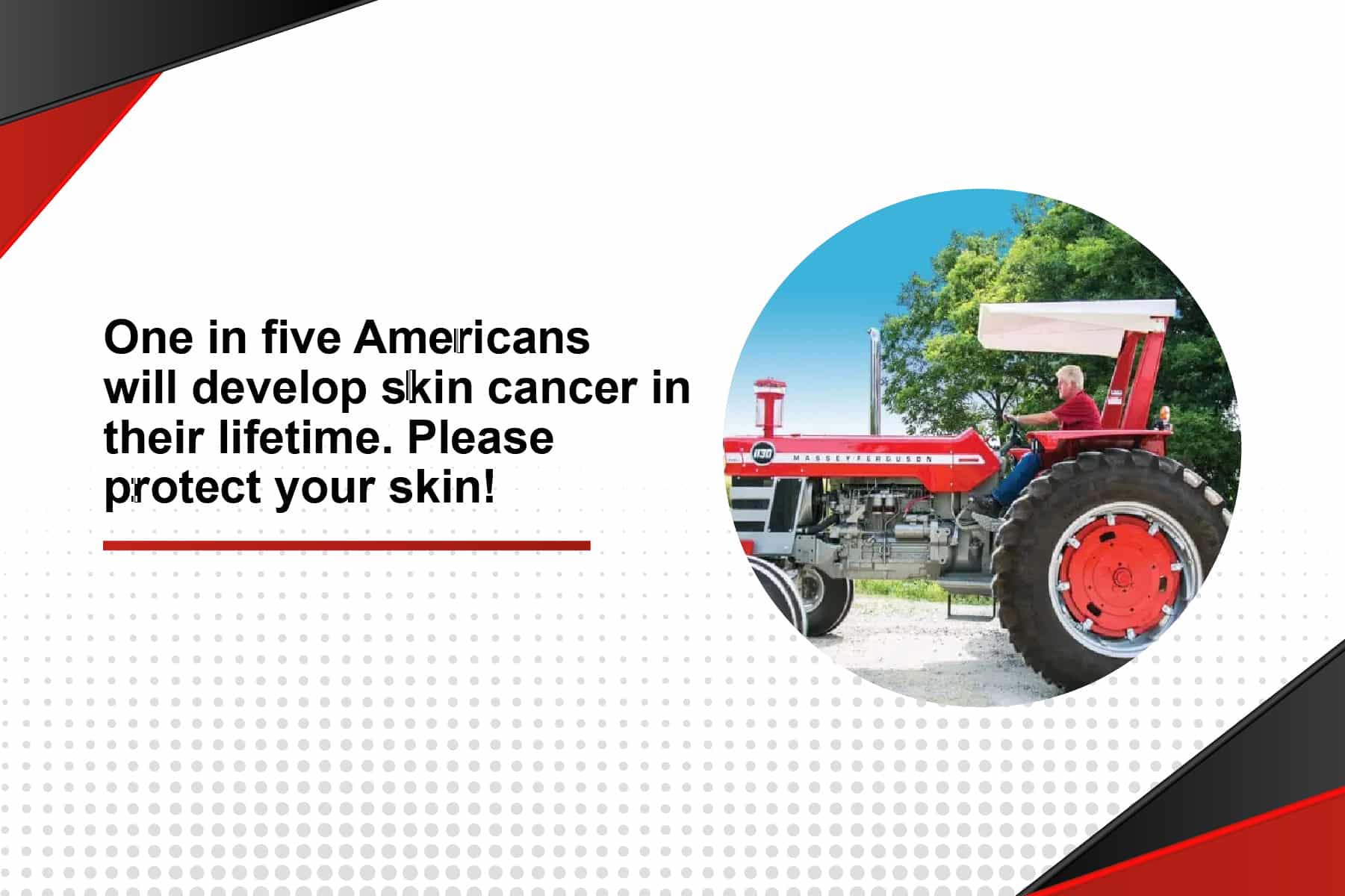 Protects you from overhead obstacles 
Have you ever been riding along on your tractor or lawnmower and gotten slapped in the face by a branch or other obstacle? 
That is not only annoying but potentially dangerous. A large branch could really do some damage to your head and neck. 
A tractor canopy does not guarantee complete safety from all obstacles, but it does help deflect some of them. It especially helps with things like branches or other objects that could fall on you from above. 
Protects you from weather 
A canopy protects you from rain, sleet, and snow as well as sunshine. 
And while a canopy will not protect you from a blizzard or a hurricane, it might allow you to get that last little bit of yard mowed while it starts to sprinkle or haul one more load of wood into your shed before the snow hits. That might be really handy someday! 
And it is definitely going to keep you warmer and drier than total exposure to rain or snow! 
There is no better feeling than the peace of mind that comes with knowing you have measures in place to protect yourself, your workers, and your family. 
You can rest easy when your young grandson is out mowing if you know there is a system to keep him safe if he has an accident. And while you know that accidents may still happen, you can also know that you are doing all you can to keep everyone safe and healthy. Your best is all you can do.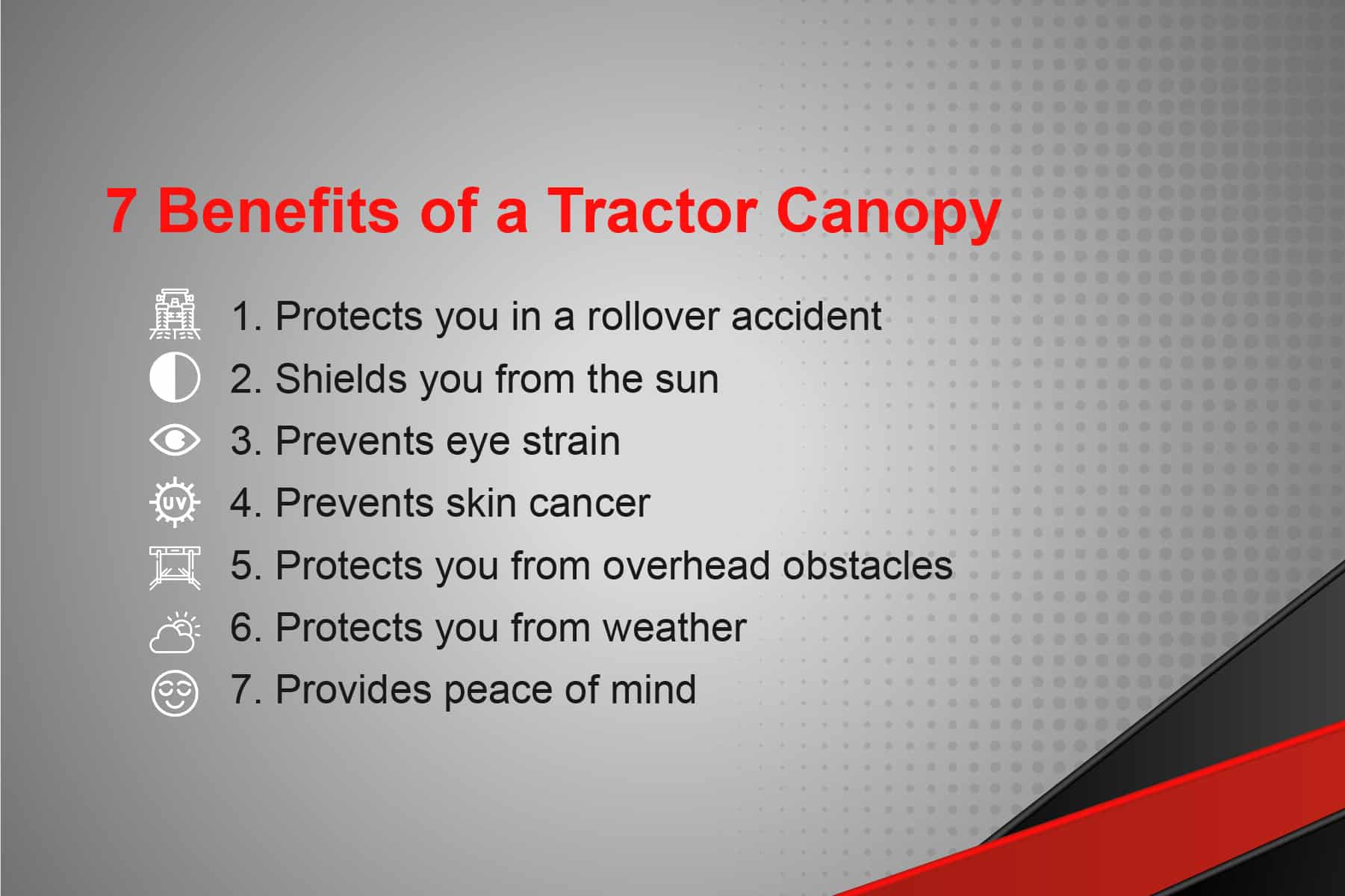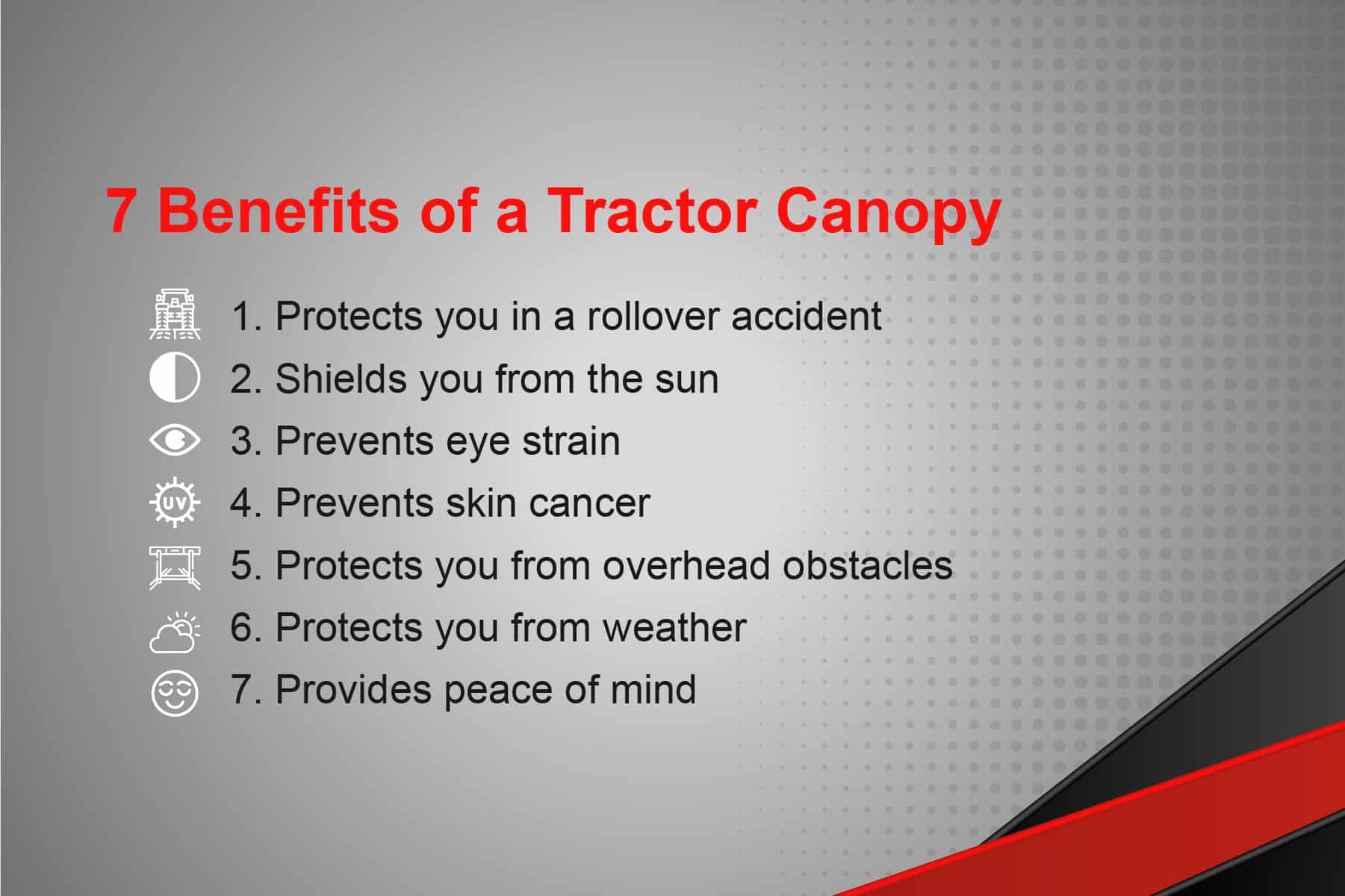 Purchasing Your Tractor Canopy
Now that you know how a tractor canopy can benefit you, maybe you would like to install one on your tractor. 
However, making an online purchase sometimes feels overwhelming and risky! Before you purchase your tractor canopy, here are the things you should look at and decide: 
Choose Your Tractor Canopy Material  
There are two main material options for tractor canopies: 
The benefits of a metal tractor canopy are that it's sturdy, tough, and durable. It provides super overhead protection from obstacles and rollovers and won't wear out quickly. 
The nice thing about a plastic tractor canopy is that it's lightweight and easier to install than a metal canopy. It also costs less than metal but since plastic isn't as tough as metal it doesn't offer as much protection in the case of an accident. It still provides great protection from the sun and other elements.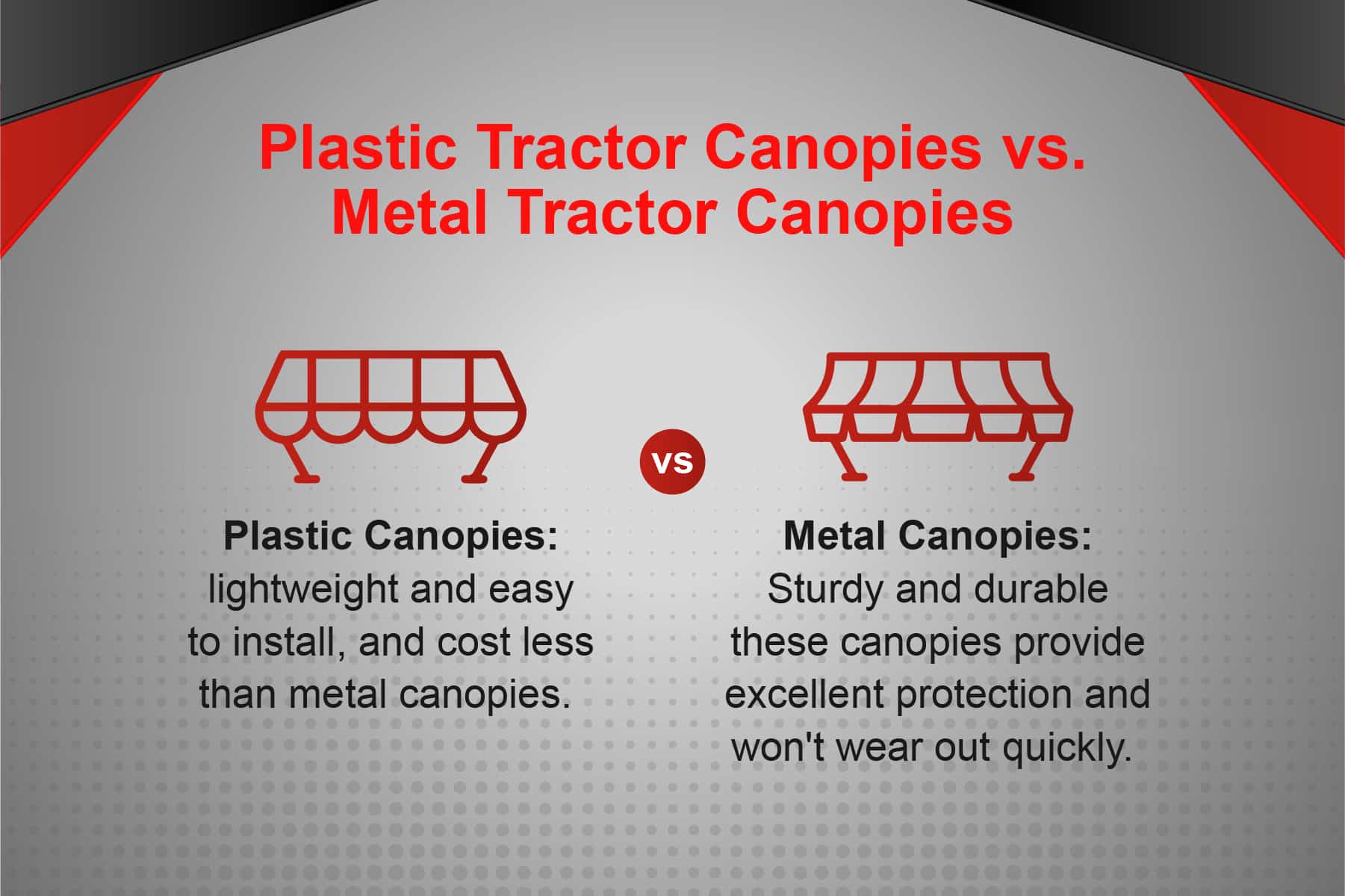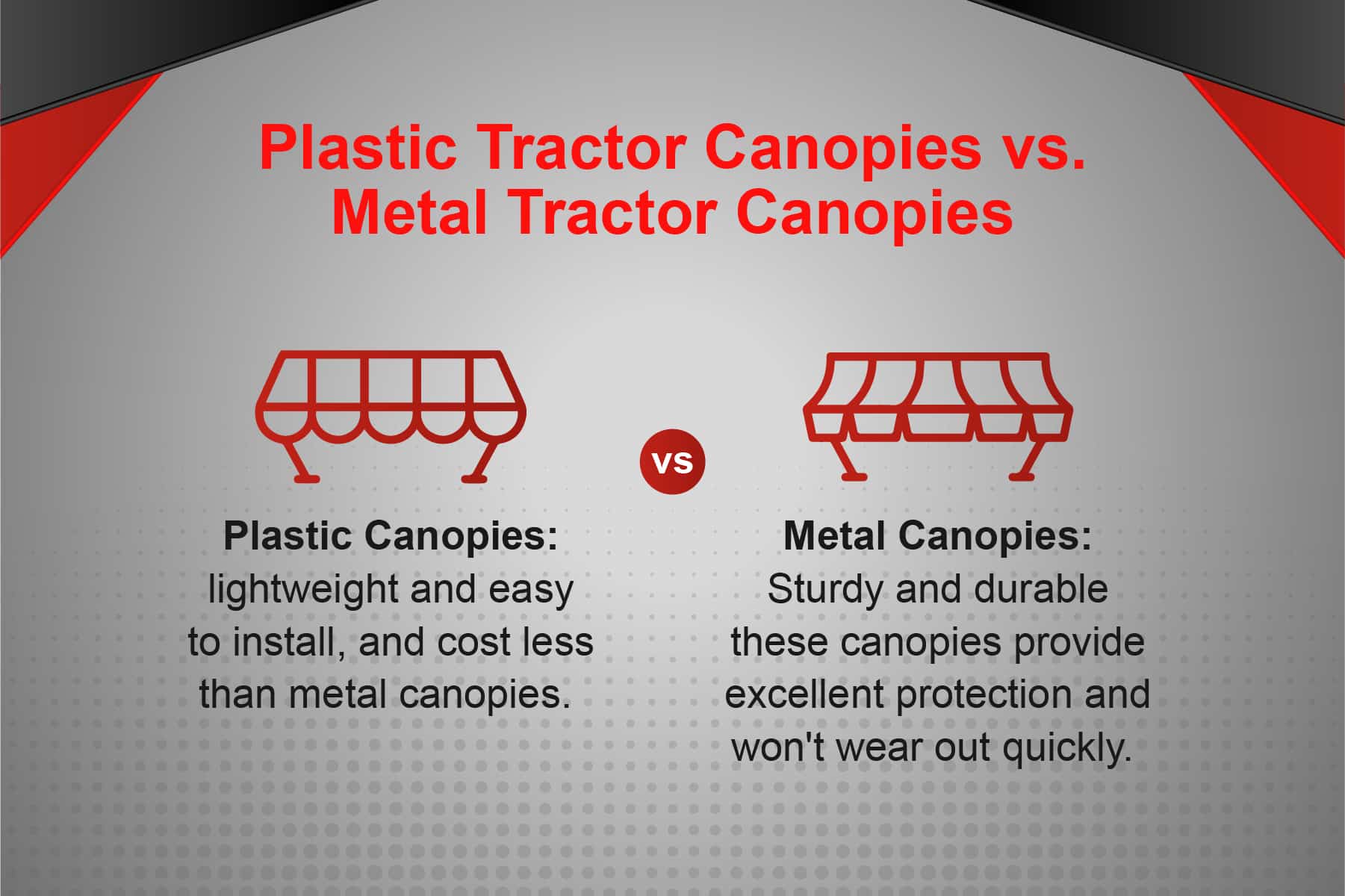 Choose Your Tractor Canopy Color 
If you are proud of your tractor, you won't want to install a canopy that looks like an eyesore. 
Thankfully, Iron Bull has paint colors to match most common farm equipment brands such as John Deere, International, and Kubota. You can pick out the color that matches your tractor. 
Please note that not every color is available in all plastic canopy sizes. 
If you are purchasing online you will want to make sure the canopy you order is actually going to fit your tractor or lawnmower. We will tell you exactly how to make sure your Iron Bull tractor canopy fits in the next section. 
Purchase and Install Your Canopy 
Now click "purchase!" 
At Iron Bull, we ship your quality tractor canopy to you along with everything you need to install it, including all hardware and brackets. All you need to do is read the directions and attach your canopy to your tractor. 
And how do you ensure that your canopy will fit your brand and model of tractor? After all, you don't want to order it and have to send it back! 
In the next section, we will go over making sure you purchase the right canopy size for your tractor or lawnmower.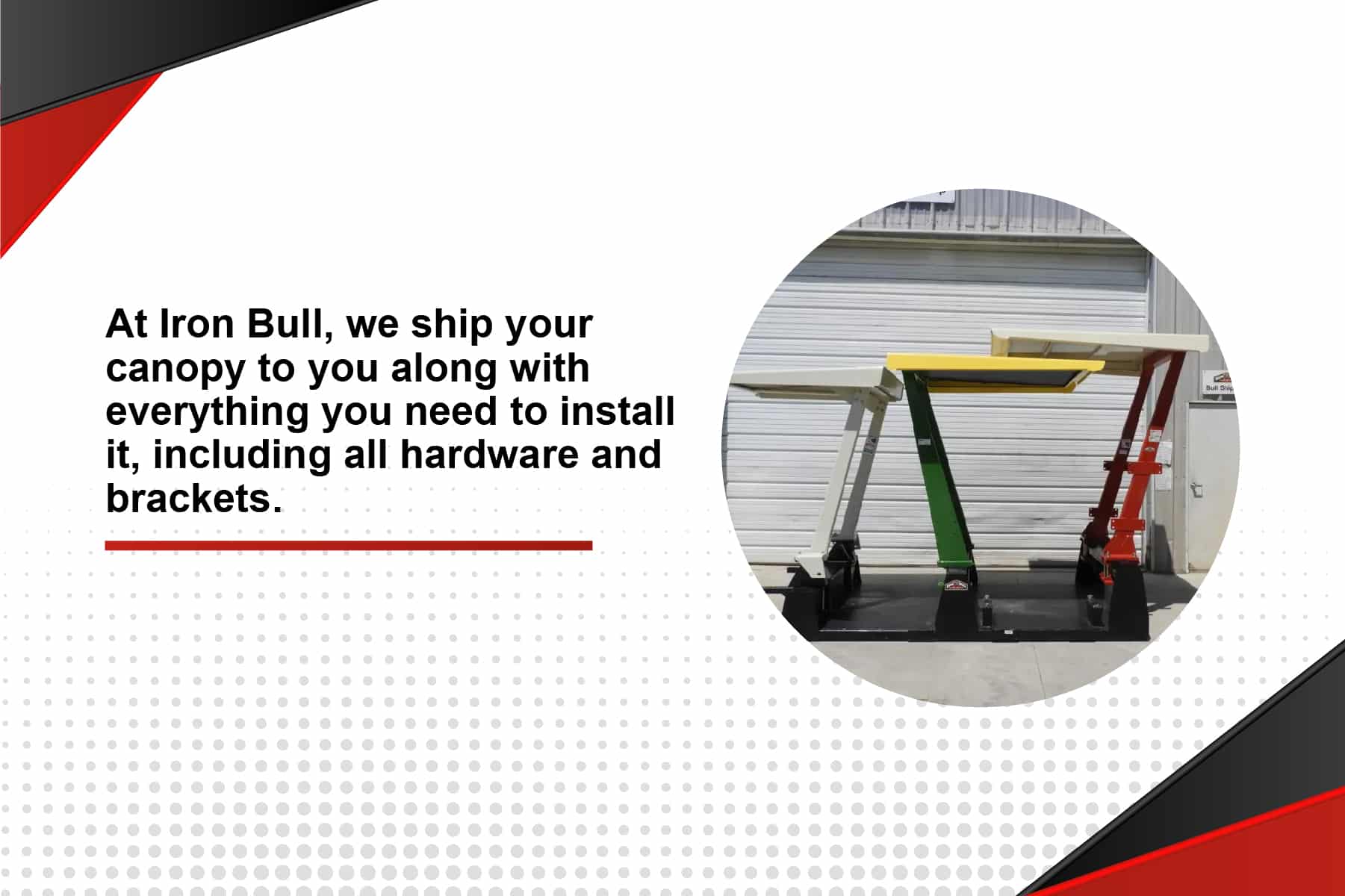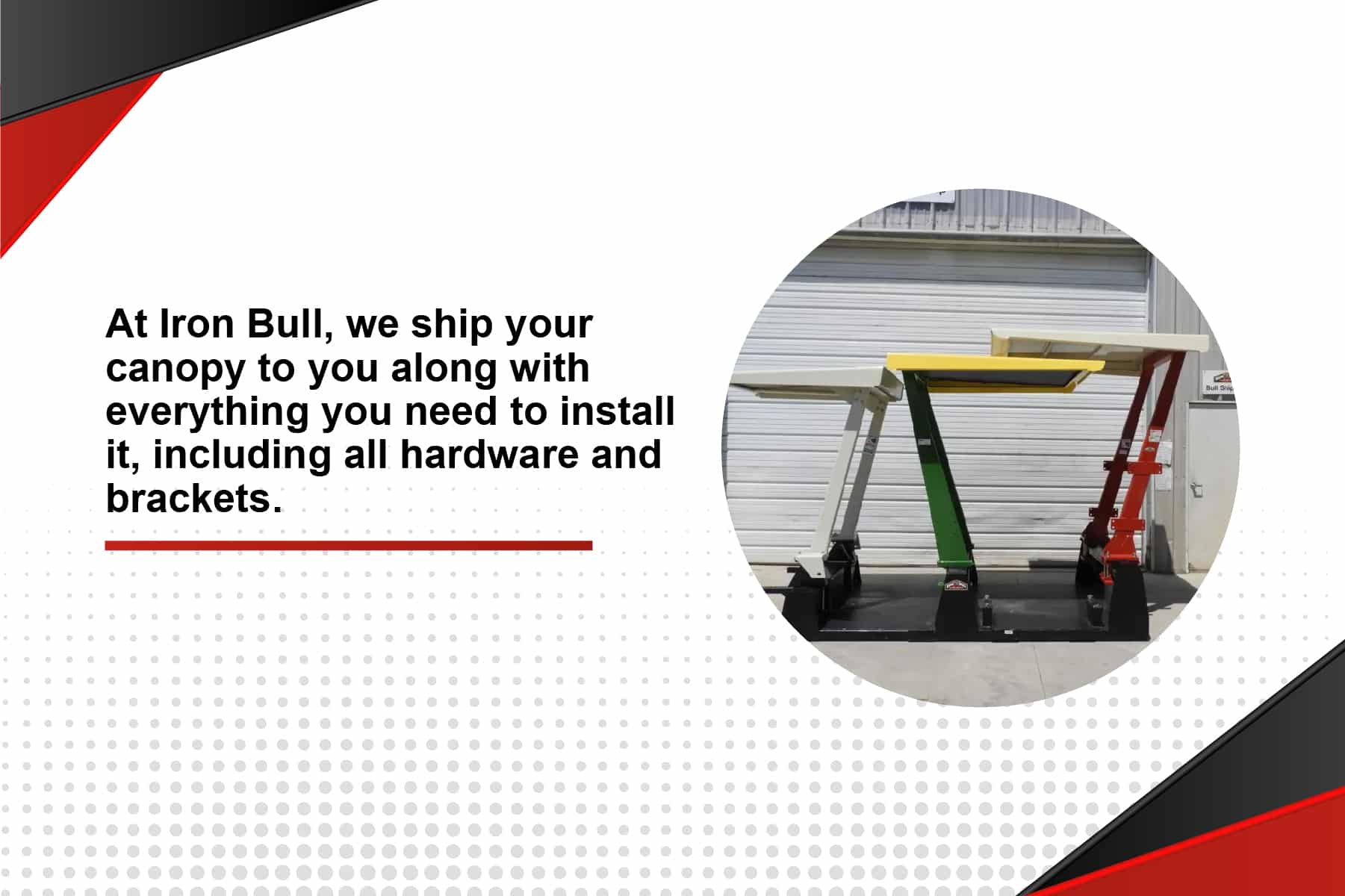 Sizing Your Tractor Canopy
There is nothing more frustrating than purchasing a part online just to find out that it is the wrong size and is of no use to you at all! 
Fortunately, Iron Bull has a sizing system you can follow to try and prevent this. Here is how it works: 
The way our tractor canopies work is they attach to the roll bar on your tractor or mower. To figure out which of our universal canopies will fit your piece of equipment, you have to measure your roll bar. 
Our universal tractor canopies fit a wide variety of equipment brands and models. You may be able to look up your model on our website and see what canopy fits your model without doing any measurements. Check it out on this page.
However, if you don't see your model in our guide, here are the steps to figuring out which canopy you need for your tractor or mower: 
You will need three measurements from your roll bar to ensure a good fit. 
First, measure the complete width of your roll bar from outside edge to outside edge at the widest part. That will tell you how wide your canopy should be. 
Then measure the depth and thickness of the bar itself. These measurements will tell you what hardware you need to fit on your bar.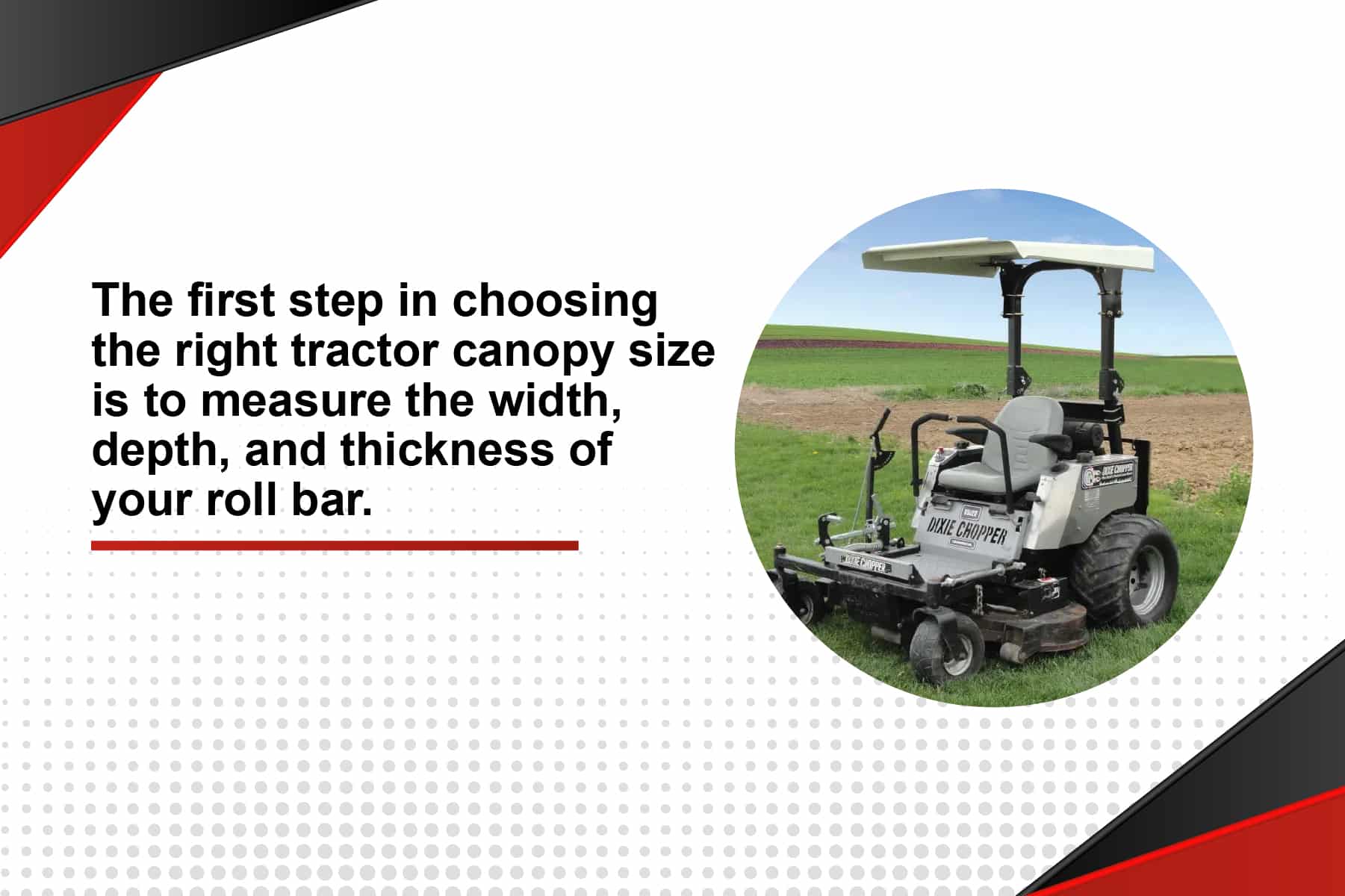 Choose the canopy that fits your roll bar 
We have several different sizes of universal canopy kits, so you can pick out the one that will fit your mower or tractor. 
For our metal canopies, there are four different sizes of universal canopy kits:
Small Metal Canopy Specs:
41" W x 46" L

Fits ROPS 20" to 35" wide

100 lbs.
Medium Metal Canopy Specs:
47" W x 52" L

Fits ROPS 20" to 40" wide

115 lbs.
Large Metal Canopy Specs:
55" W x 59" L

Fits ROPS 22" to 45" wide

145 lbs.
Extra-Large Metal Canopy Specs:
60" W x 66" L

Fits ROPS 27" to 50" wide

175 lb 
 And for plastic canopies, there are two different sizes:
Plastic Canopy Specs:
36″W x 41″L

Fits ROPS 20″ to 35″ wide

36 lbs
Medium Plastic Canopy Specs:
45" W x 50" L

Fits ROPS 20" to 45" wide

47 lbs.
There are also several hardware options for plastic canopies, depending on the width and depth of your roll bar.
Standard

– Fits up to 3″x2″ ROP. 0° to 25°  pitch.

Oversized

– Fits up to 4″x3″ ROP. 0° to 25° pitch.

Extreme Pitched

– Fits up to 3″x2″ ROP. 0° to 45° pitch. 
Be sure to order the hardware that fits your roll bar measurements. 
If you are careful with your measurements and pick out the size of universal tractor canopy that fits your roll bar, then installation should be a breeze! 
When we ship you your tractor canopy, we include all the hardware you will need to install it. The only tool you will need is a ratchet, and you should be able to install your canopy in about 25 minutes. 
If you want more detailed instructions on installing your tractor canopy, here are the instructions for Universal Metal Tractor Canopies and Universal Plastic Tractor Canopies. 
At Iron Bull, we offer canopies for multiple tractor makes: 
Ordering the right size of canopy for your tractor or mower is simple! To recap, here are the steps: 
Measure your roll bar's overall width and the depth and thickness of the bar 

Decide on your material, plastic or metal 

Go over the sizes available in each material and choose the one that fits your roll bar. Be sure to choose the right size of hardware for your plastic canopy.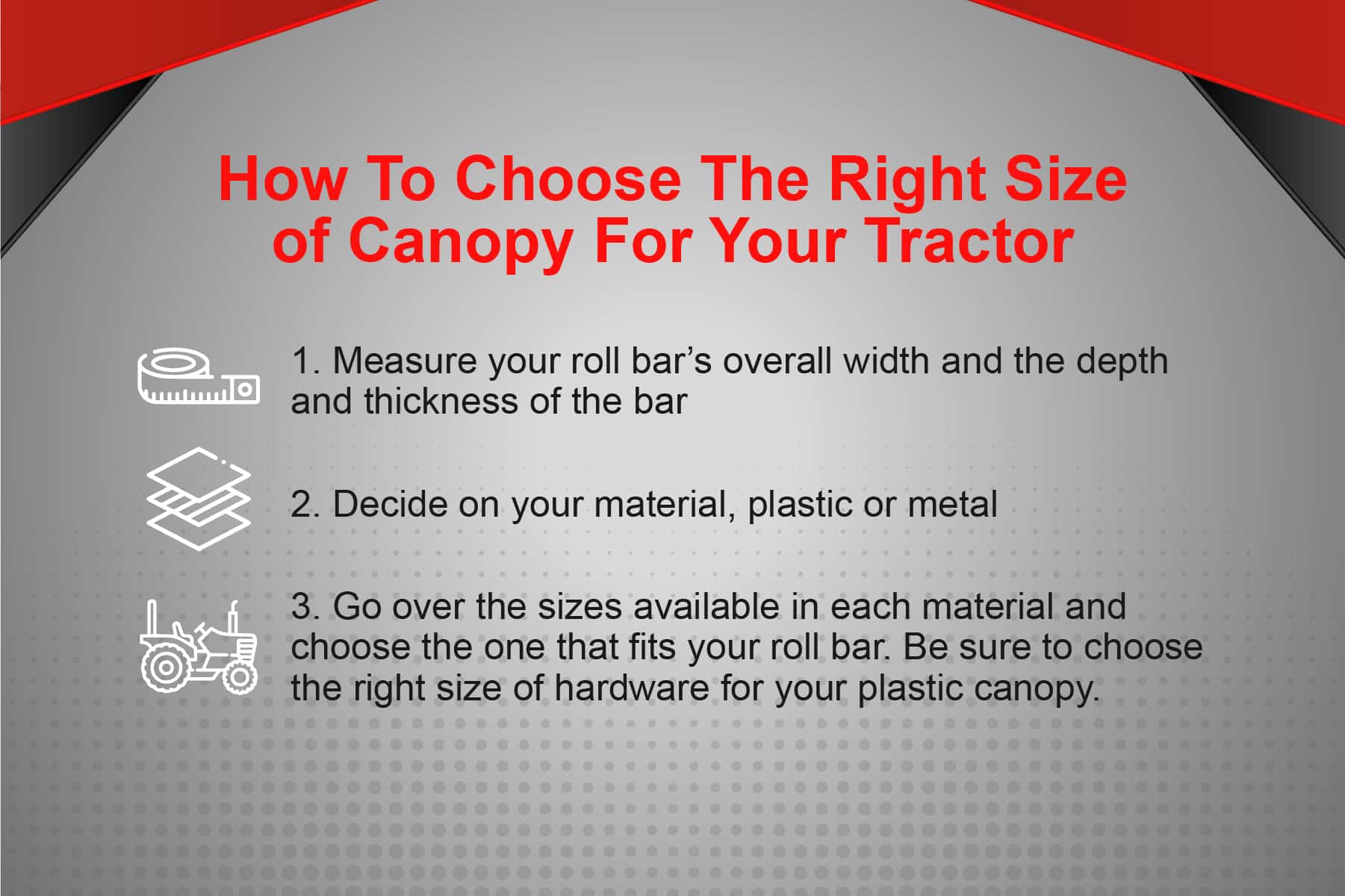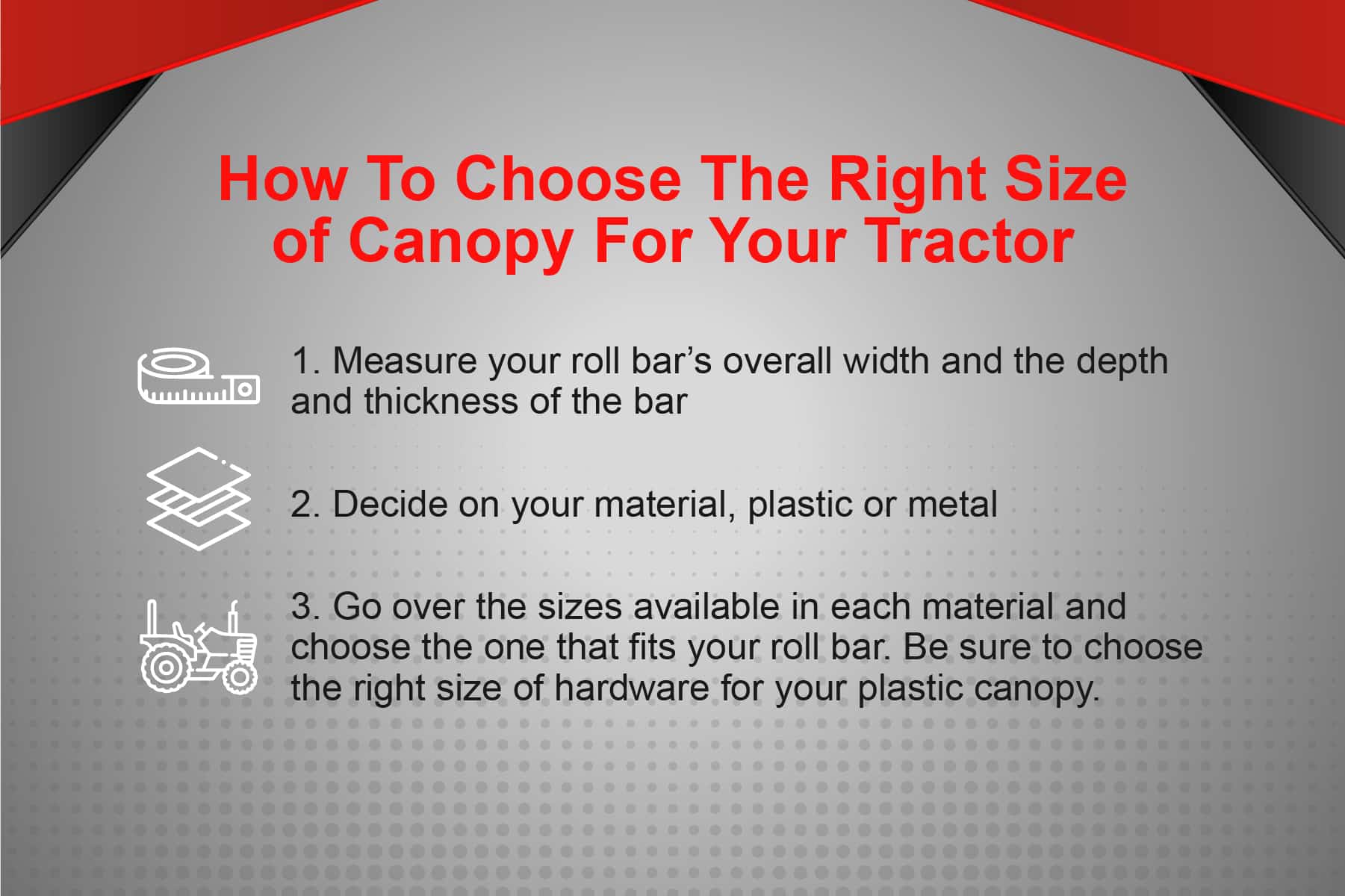 Then order your canopy, and we will ship it to you with all the necessary components. After you receive it, follow the directions and you can install it in under half an hour. That is a small investment for all the comfort, safety, and peace of mind you will enjoy from it! 
If you want an in-depth look at tractor ROPS and canopies, take a look at this blog for everything you need to know! 
You should never wait for accidents to happen before you introduce safety measures. Be proactive and prevent accidents before they strike! 
If you want to upgrade your lawnmower or tractor, check out our universal tractor canopies.  
With a canopy, you will enjoy increased safety, comfort, and the peace of mind you gain from knowing you are doing all you can to keep your workers and family safe. 
It doesn't end with tractor canopies, either. Iron Bull also carries: 
You can check out more of our products if you visit Iron Bull's homepage. 
Contact us today if you want to increase your tractor safety, comfort, and versatility! 
We look forward to hearing from you.