Are you ready for a
John Deere tractor canopy that...
Protects you from constant exposure to the sun, which is the leading cause of skin cancer?

Is made of quality metal, not plastic, and will last the life of your tractor?
Protect yourself and your loved ones
with a new metal shade canopy!
Protect your head from overhead obstacles with a reliable metal tractor canopy.
Our parts are made of quality metal, not plastic, and will last the life of your tractor!
Say goodbye to sunburns and leaking roofs with a new tractor canopy!
Which Canopy Size Is Right
For Your John Deere Tractor?
Small

-SUC (41"W x 46" L)

-Fits ROPS 20" to 35"wide

-Tractors up to 24 HP

Medium

-MUC (47"W x 52" L)

-Fits ROPS 20" to 40"wide

-25-40 HP Tractors

Large

-LUC (55"W x 59" L)

-Fits ROPS 22" to 45"wide

-41-100 HP Tractors

Exra Large

-XLUC (60"W x 66" L)

-Fits ROPS 27" to 50"wide
Get Your John Deere Sun
Protection In 3 Simple Steps
Measure

We need 3 measurements:

- The complete width of your rollbar from outside to outside.

- The width of your rollbar.

- The depth or thickness.

Order

After you order your canopy, we carefully package it so you receive it safely and without defect.

Mount

To protect your time and energy, we include clear mounting instructions with your tractor canopy.
Enjoy the comfort, safety, and peace that only a reliable tractor canopy provides!
Don't see your John Deere tractor model listed below?  Click here to view our Universal Shade Canopy Sizing Guide and find which canopy will fit your tractor!
Small Canopy Kit:
SUC-GR (41"W x 46" L)
Fits ROPS 20" to 35"wide
Tractors up to 24 HP
Fits John Deere models:
---
Medium Canopy Kit:
MUC-GR (47"W x 52" L)
Fits ROPS 20" to 40"wide
25-40 HP Tractors
Fits John Deere models:
30A, 35C, 40, 45, 790, 990
1026
2025, 2026, 2032, 2036, 2038, 2210, 2305, 2320, 2520, 2720
3005, 3025, 3032E, 3033, 3035, 3036, 3038, 3039, 3120, 3203, 3320, 3520
4100, 4110, 4115, 4200, 4210, 4300, 4310, 4410, 4500, 4510
---
Large Canopy Kit:
LUC-GR (55"W x 59" L)
Fits ROPS 22" to 45"wide
41-100 HP Tractors
Fits John Deere Models:
5036, 5038, 5039, 5041, 5042, 5045, 5047, 5050, 5055, 5065, 5070, 5075, 5076, 5080, 5083, 5085, 5090, 5093, 5095, 5100, 5101, 5103, 5104, 5105, 5200, 5203, 5204, 5205, 5210, 5215, 5220, 5225, 5300, 5303, 5310, 5315, 5320, 5325, 5400, 5403, 5410, 5415, 5420, 5425, 5510, 5520, 5525, 5605, 5615, 5620, 5705, 5715, 5720, 5820
6110, 6120, 6200, 6210, 6215, 6220, 6230, 6300, 6310, 6403, 6405
---
Extra-Large Canopy Kit:
XLUC (60"W x 66" L)
Fits ROPS 27" to 50"wide
Fits John Deere Models:
John Deere is arguably THE iconic American tractor brand. It's owned by parent Deere & Company, which is 87th and 329th on the Fortune 500 lists of US and global companies respectively. They employ 67,000 people as of 2018 and are the largest manufacturer of agricultural machinery in the world.
The company was started by a blacksmith by the name of John Deere who moved to Grand Detour, IL in 1804 to start a new life in the west. He began by making simple hand tools like pitchforks and shovels. However, he soon created a new kind of smooth-sided steel plow that didn't need to be often cleaned of the sticky midwest dirt like the iron and wooden plows in common use. Furthermore, he took the first steps toward the assembly line and uniform product revolutions by creating his plows ahead of time instead of taking custom orders as was the habit of blacksmiths in his day. This upped his production efficiency greatly and allowed him to showcase the exact product to his customers, which was a great sales point.
In 1912, the 3rd generation of the Deere family began manufacturing tractors, first with their own design. In 1918, they purchased the Iowa-based Waterloo Gasoline Engine Company, adopting their design and brand. In 1923, they began branding their tractors as John Deere again with the Model D.
In 1927, they produced their first tractor-pulled combine harvester. And in 1947, their first self-propelled combine.
To this day, John Deere produces a wide range of tractors, mowers, and other equipment.
Residential Lawn & Garden
Tractor-style mowers: S240, 100, X300, X500, X700 series
Zero-turn mowers: Z300, Z500, Z700 series
Gator UTVs: Work Series, Mid-Size Crossover XUV, Full-Size Crossover XUV
Commercial Lawn & Maintenance
Zero-turn mowers: ZTrak, QuikTrak
Walk-behind mowers: M & R series
Front Mowers & Wide-Area Mowers
Pull-behind Rotary Cutters for roadside mowing and other heavy-duty mowing
Pull-behind Grooming Mowers with "finish cuts" for golf courses, sporting fields, and lawns
Low Profile Specialty tractors such as the 5000 series
Compact Tractors such as the 1, 2, 3, and 4 series
Agriculture
Front End Loaders
4WD/Track Tractors
Compact Tractors
Scraper Systems
Row Crop Tractors
Specialty Tractors
Utility Tractors
Cutters and Shredders
Harvesting Equipment
Hay and Forage Equipment
Planting Equipment
Seeding Equipment
Sprayers & Applicators
Tillage Equipment
Construction
Articulated Dump Trucks
Backhoes
Compact Track Loaders
Crawler Loaders
Dozers
Excavators
Motor Graders
Scraper Systems
Skid Steers
Tractor Loaders
Wheel Loaders
If you are interested in buying a John Deere tractor or piece of equipment, you can find your local John Deere dealer here.  
If you are looking for a universal John Deere shade canopy for your tractor, mower, or other piece of John Deere equipment, then the team at Iron Bull would love to help you!  Get a quote for your canopy today!
---
Here are several recent reviews from customers who purchased John Deere equipment (reviews are from Consumer Affairs):
"I love my John Deere. It is comfortable and easy to maneuver. It's easy to add oil, which it doesn't use much and it's easy to add gas. It might be more expensive but worth the extra. It has 540 hours on it and will be having to add a new starter."
"When we purchased our first John Deere riding mower, we had no idea it would last for 29 years! For about the first 8 years it did commercial mowing, then it became our personal mower. Hoped to get it to 30 years - but we finally had to buy a new one. I forget the exact age, but this 'new' one is at least 10 years old and still going strong! As they truthfully say, 'John Deere is built to last!'"
"I have had this equipment for 5 years without any problems. I have tuned the machine myself with the package I purchased from John Deere. I have been able to convert the machine from a bagger to a mulcher with on problem."
If your tractor make or model number was not listed in our "Supported Models" section above, then you can purchase a Universal Shade Canopy using our sizing guide below.
We offer (4) canopy sizes and multiple colors to fit most brands and tractors.  Adjustable mounting allows our Universal Shade Canopies to mount to a large selection of tractors and mowers.
Brand Colors Available:  John Deere, Kubota, New Holland, Case IH, Massey-Ferguson, Mahindra, International, Yanmar, and more!
Which Canopy Size Do You Need?
We are here to help you choose the right equipment!  Here is what we need you to do:
Find the measurements for your equipment's roll bar.  You need 3 measurements:

The complete width of your rollbar from outside to outside.
The width of your rollbar.
The depth or thickness of your rollbar.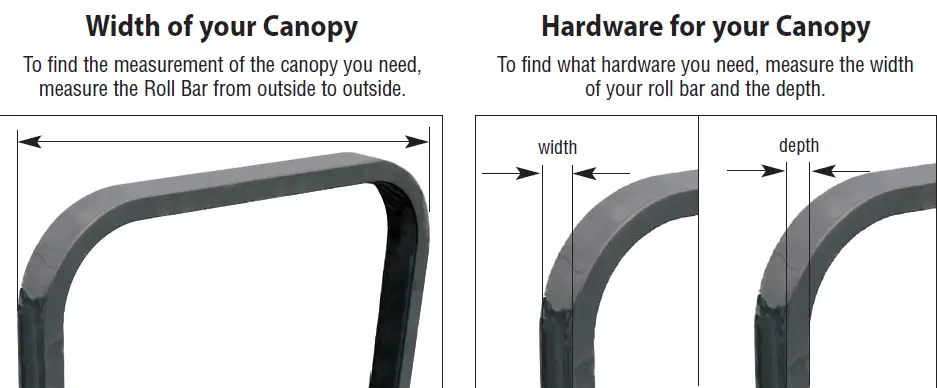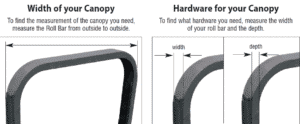 Email us this information along with a photo of your equipment.
We will determine which canopy kit is the right fit for your equipment.
If you have your dimensions, you can also determine the kit you need with the following information:
Small Canopy Kit:
SUC-GR (41"W x 46" L)
Fits ROPS 20" to 35"wide
Tractors up to 24 HP
Medium Canopy Kit:
MUC-GR (47"W x 52" L)
Fits ROPS 20" to 40"wide
25-40 HP Tractors
Large Canopy Kit:
LUC-GR (55"W x 59" L)
Fits ROPS 22" to 45"wide
41-100 HP Tractors
Extra-Large Canopy Kit:
LUC-GR (60"W x 66" L)
Fits ROPS 27" to 50"wide
"This is the most heavy duty well built sun shade I've ever owned. Well worth the money. I have a commercial highway mowing company in Florida and this canopy has taken a beating and handled it all. It was also very easy to install. Would recommend this to anyone."
Anthony
"Great canopy for 4020 John Deere tractor. Very nice company to work with. Thanks."
Mike
"The roll bar and canopy were shipped when promised and it fit and assembly was easy and effortless"
Dan
What You Can Expect
From Iron Bull
Satisfacton Guaranteed
Our John Deere canopies for sale come with a full refund if you are not completely satisfied with your product and return it to us.
Safe Shipment
We ship tractor shade canopies in wooden crates to protect them from damage during shipping.
All Mounting Brackets and Hardware
We include every part you need so that you don't have to run to the hardware store.
Hassle-free payment
Pay online with your credit card or call us to schedule your payment.
Tractors made
safer & cooler
Looking for a Tractor ROPS and Canopy Combination?
Choose your tractor make to view products
Risk injury from overhead obstacles when driving your tractor.

Have to deal with the constant heat of the sun.

Risk getting skin cancer.
Get your new John Deere Canopy Top from Iron Bull and have peace of mind!
We get it. You've got questions. We've got answers
All our products are made from metal.
We offer a 100% satisfaction guarantee return for 30 days; no questions asked.
Since most of our items are in stock, we ship most products 2-3 business days after receiving payment.
We ship all the parts in heavy wooden crates to protect them from scratching or damage during shipment.
Along with your tractor shade canopy, we include all the mounting brackets, attachment bolts and hardware, and mounting instructions.
Yes, they are painted with a 2-part urethane, similar to an automotive-style finish.
Yes!  While a shade canopy can help protect you from overhead obstacles, it will not protect you in the case of a roll-over accident.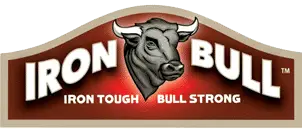 Thank you for visiting us! If you have any questions, don't hesitate to ask.